Brawn GP's Rubens Barrichello and Jenson Button struck what may turn out to be the killer blows in their battle with Red Bull Racing by finishing first and second in the Italian Grand Prix while their rivals struggled.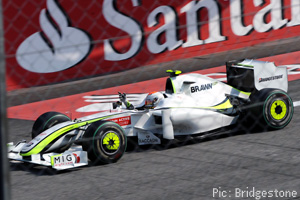 The Brawn pair started from row three of the grid but made their one-stop strategy work better than the two-stopping cars ahead of them, setting fast laps at the end of their first stint and ensuring their closest challenger, Lewis Hamilton, ended up behind them when he took his second stop.
Barrichello made the most of his narrow qualifying advantage over his team-mate to get the better start and build an early advantage over him as they raced in fourth and fifth places. Button recovered some ground, but never looked like overhauling the Brazilian.
At the post-race press conference Button said: "It's great to be up here in second. I would like to be where Rubens is sat, but he did a better job this weekend. I lost two points here but gained seven on Vettel. This guy here [Barrichello] is my closest rival, but we have a good relationship."
He said his race had depended on emerging from the start well: "It was a messy lap but I made up a position which was fantastic. You are always wary at the start because of KERS cars. I was sat behind Kovalainen at the second chicane and at Lesmo One I put a nose inside and got him into Lesmo Two. It was a much needed move as without that I probably would have finished third or fourth."
Barrichello said he had 'no words' when he crossed the line, and thanked his team: "It feels great, it is a winning year whatever happens. It is not long ago that we had no jobs, we didn't know what was going to happen so we are finally driving a fantastic car with a fantastic engine with a team doing a fantastic job."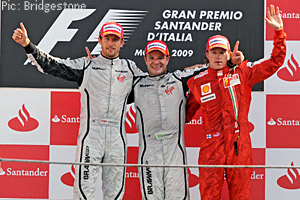 Ferrari's Kimi Raikkonen overtook Adrian Sutil at the start and then spent the rest of the race fending off the Force India driver until receiving the unexpected gift of a podium when Hamilton crashed on the final lap as he tried to chase down Button for second.
The reigning world champion lost control at the first Lesmo, sending his car into the barrier and debris across the full width of the track. He was classified 12th as the race finished under the safety car – although the chequered flag came before it was able to emerge and collect the field.
Hamilton's McLaren team-mate Heikki Kovalainen quickly faded into anonymity despite his potential race-winning advantages of fuel-adjusted pole position, the same pit strategy as the Brawns and the speed-boosting KERS button, eventually finishing sixth behind Fernando Alonso.
Team boss Martin Whitmarsh said: "There's no point my denying that we'd expected to achieve a lot more here at Monza than a sixth place and a DNF. We're disappointed with our points haul today, of course we are, but we're also pleased that our race pace was almost on a par with that of the Brawns and as quick or quicker than that of anyone else."
He said Hamilton's crash was down to the driver's 'never-give-up attitude', adding: "Throughout the final stint he'd been pushing as hard as he possibly could, driving beautifully, right on the limit, in an effort to catch Jenson for second place, and he pushed just a fraction too hard."
Hamilton himself sounded subdued talking to media after the race, saying: "I was pushing incredibly hard on that lap to try to get close to Jenson and use KERS to pass him, then I exited the first Lesmo and the back-end got away from me and I went backwards into the wall.
"I can only say 'sorry' to the team – they did a great job and, although we weren't quite as quick as the Brawns today, I pushed harder than ever, so I can feel happy about that."
Seventh went to Nick Heidfeld, salvaging something from a miserable weekend for BMW that saw Robert Kubica retire on lap 16 due to the after-effects of an early tangle with Red Bull's Mark Webber.
The Australian's first-lap retirement, combined with team-mate Sebastian Vettel's single point for eighth place, mean that Brawn significantly extend their lead in the constructors' championship while the drivers' battle is narrowing to a contest between Button and Barrichello.
The pair are separated by 14 points, Button leading 80-66, with Vettel on 54 and Webber on 51.5. Brawn are ahead of Red Bull in the constructors' standings by 40.5 points.
Force India's Vitantonio Liuzzi was another retirement, running strongly in the points when his engine lost drive. Giancarlo Fisichella, whose move to Ferrari gave Liuzzi his race drive, finished ninth.
Italian Grand Prix result
Rubens Barrichello, Brawn
Jenson Button, Brawn
Kimi Raikkonen, Ferrari
Adrian Sutil, Force India
Fernando Alonso, Renault
Heikki Kovalainen, McLaren
Nick Heidfeld, BMW
Sebastian Vettel, Red Bull
Giancarlo Fisichella, Ferrari
Kazuki Nakajima, Williams
Timo Glock, Toyota
Lewis Hamilton, McLaren
Sebastien Buemi, Toro Rosso
Jarno Trulli, Toyota
Romain Grosjean, Renault
Nico Rosberg, Williams-Toyota
Not classified
Vitantonio Liuzzi, Force India
Jaime Alguersuari, Toro Rosso
Robert Kubica, BMW
Mark Webber, Red Bull
Drivers' championship
Jenson Button, 80
Rubens Barrichello, 66
Sebastian Vettel, 54
Mark Webber, 51.5
Kimi Raikkonen, 40
Nico Rosberg, 30.5
Lewis Hamilton, 27
Jarno Trulli, 22.5
Felipe Massa, 22
Heikki Kovalainen, 20
Fernando Alonso, 20
Timo Glock, 16
Nick Heidfeld, 12
Giancarlo Fisichella, 8
Robert Kubica, 8
Adrian Sutil, 5
Sebastien Buemi, 3
Sebastien Bourdais, 2
Kazuki Nakajima, 0
Nelson Piquet Jnr, 0
Luca Badoer, 0
Romain Grosjean, 0
Jaime Alguersuari, 0
Vitantonio Liuzzi, 0
Constructors' championship
Brawn, 146
Red Bull, 105.5
Ferrari, 62
McLaren, 47
Toyota, 38.5
Williams, 30.5
BMW, 20
Renault, 20
Force India, 13
Toro Rosso, 5