Scott Dixon was handed victory when weather forced an early end to the Firestone Indy 200 at a rain-soaked Nashville Superspeedway – but it was all a lucky mistake.
A communication foul-up meant that when most of the rest of the field – including leader Tony Kanaan – took advantage of a rain-provoked safety car period to stream into the pits for their final load of fuel, Dixon stayed out.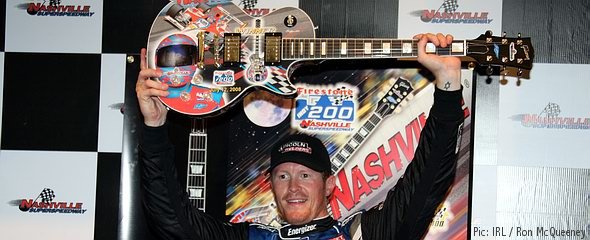 "They came on the radio and said, 'Follow TK. If he stays out, stay out. If he pits, pit,'" he said afterwards. "But I was going by the pit entry, I was too high to try and pull the car down – I think I would have spun out."
By staying out, he took over the lead – but he could only expect to stay there until lack of fuel forced him into the pits and sent him plunging down the field.
Except the rain got worse, not better, and the race was stopped before he needed to refuel – handing Chip Ganassi Racing its 100th motorsport victory and him his third victory in a row at the circuit.
"You could not have been luckier than we were tonight," said Dixon. "It was a miscommunication on the pit call. That's the only reason I didn't come in. I was angry for a few laps, but when I saw the rain coming down, I thought, 'Oh, this could work out pretty good.'"
The New Zealander's usual red car was rebranded in blue and black for sponsor Energizer, and he is now starting to believe it's bringing him luck: "Every time we ran this car I've won with it, here at Nashville and at Watkins Glen. It's brought a hell of a lot of luck for us."
Behind him was team-mate Dan Wheldon, who had not been running competitively and had nothing to lose by taking the gamble on staying out. He recognised he had scored a better finish than he might have deserved, having suffered from drag in the car and being forced to lift in traffic.
"I feel very lucky to be here in second place because we didn't quite have a second-place car today. But they say it's better to be lucky than good sometimes," he said. "It's a great night for Target Chip Ganassi Racing, finishing 1-2, and the rain seemed to be powered by Energizer Batteries because it kept coming once it started and never stopped."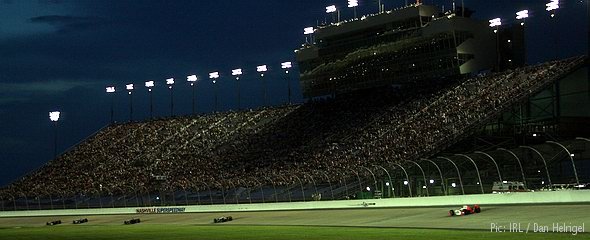 Third-placed Helio Castroneves, who'd qualified on pole and desperately wanted the hand-panted Gibson guitar offered as a winner's trophy, said: "I was told that the Ganassi guys had four laps of fuel left. That's two minutes. If the rain had come two minutes later, we would have won the race."
He had shared the front row of the grid with Danica Patrick, who pushed him hard over the opening laps until she dropped back when she lost momentum following an unsuccessful overtaking attempt.
She went on to finish fifth and said: "It is frustrating when you are dealing with a situation like the weather. Dixon and Wheldon were just a few laps short of having to pit. From that perspective it is tough, but that is a gamble that they took and it worked out in their favour."
The big loser from the rain was Tony Kanaan – had he not pitted he would have won the race and continued his charge back into contention in the championship. Instead, he ended up fourth and lost ground.
But he was emphatic that he did not disagree with his team's decision to call him in: "I support my team 100 percent. It was the right call to come in on Lap 148. Who can predict the rain? Unfortunately the rain and I don't get along too well."
Up and down the field, faster drivers were finding slower rivals unwilling to move aside and be lapped – the uneven concrete surface of the Nashville Superspeedway was degrading tyres at such a rate that anyone who left the racing line for a moment to overtake or be overtaken risked losing control in the debris.
Darren Manning, who finished ninth after his career-best second last weekend, made an early surge from 18th on the grid but found himself held up as he tried to make further progress.
He said: "The ABC car was good from the first lap because I could overtake cars on the start and get pretty close to the top 10. Track position was everything – the backmarkers were racing us all night, which hurt us."
He said the team had come close to taking the same gamble the Ganassi drivers benefited from – but had enough on their plates responding to malfunctioning equipment: "On our last stop, the guys did a great job with the quickjack when the airjack failed. We thought about staying out but if we had, it probably wouldn't have rained. We'll take this top 10."
Justin Wilson suffered mechanical woes for the second race in a row and was classified 18th after a long stretch in the pits for repairs cost him nearly 30 laps on the leaders.
He said: "I never felt the McDonald's car was very strong in a straight line all race long, but the handling was feeling good so we just sat there being patient trying not to do anything silly and trying to move forward step by step.
"The plan was working, but then I started to get what felt like a misfire or hitting the rev limiter, which was killing my straight line speed. After a while I suddenly lost fifth gear. Fortunately a yellow came out and it recovered for a while. We had tried every setting, but it gave up finally and we had to come in and change the whole gear cluster.
"The guys did a good job of switching it over very quickly. We got back out there only for it to rain. It's disappointing and frustrating, but we've still got four wheels on the car and we're going back to a road course."
Jay Howard's confusing and disappointing season continued in Nashville, where Roth Racing again ran just a single car. Not only did he not take part, he had the frustration of seeing boss Marty Roth use his car for practice and qualifying – though not the race, where Roth finished a better-than-usual 13th.