Alex Lloyd, who has barely turned a wheel in anger since winning the Indy Lights championship in 2007, will close this year's IndyCar season on October 10th by racing at Homestead-Miami Speedway for Newman/Haas/Lanigan.
The Manx driver walked away from a development role at front-runners Target Chip Ganassi Racing earlier this year in the hope of landing a full race drive elsewhere, after his time with the team led only to a pair of Indianapolis 500 runs during which he was farmed out to other teams.
His 2008 Indy 500 ended with a crash in the pitlane entrance but this year he qualified on the first day, only to be sent a lap down at the beginning when race control spotted a minor problem with his car and ordered him to pit. Despite this blow he battled back to finish 13th.
N/H/L had feared that funding problems would force them to run only a single entry this year, but the well-financed Robert Doornbos put the #06 car out on track for the first dozen races, and when he left Oriol Servia took over.
Now the team has announced that Lloyd will run the final race of the season, adding: "Lloyd's championship in the 2007 Indy Lights Series and his terrific drive at the 2009 Indianapolis 500 bodes well for what he and Newman/Haas/Lanigan Racing hope to accomplish together."
Lloyd had been negotiating for a drive for some weeks, with rumours hardening that N/H/L were the team involved. The move is being widely seen as an audition for a relationship lasting into next season, where he would partner Graham Rahal.
Sam Schmidt, the Indy Lights team boss who masterminded his championship season and also managed his 2009 Indy 500 entry, said: "I'm not his father, but I feel the same level of pride. When he decided to roll the dice and put himself on the job market in July, we respected the decision and did everything within our power to assist with the process."
He thinks the N/H/L drive is a good outcome for Lloyd: "There have been several teams interested in doing a programme with Alex. Frankly, he couldn't have signed with a more competitive and professional organisation. We look forward to the fantastic results we know he is capable of achieving."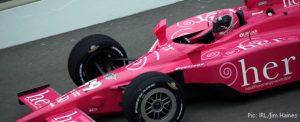 But IRL blogger George Phillips was less sure: "I do not mean to disparage Alex Lloyd, but this move would not benefit him either. Although considerably older than Graham Rahal, he has far less experience. He needs to go to a team that would have a veteran driver as a teammate to coach and mentor him; much the same reason why Graham Rahal needs Oriol Servia.
"Otherwise, N/H/L will struggle mightily counting on a twenty-one year old driver to lead their team against the Penskes and Ganassis of the IndyCar world, while Alex Lloyd will not get the proper seasoning he needs."
Lloyd himself, his mind on some particularly unpleasant dentistry, was less open than usual on his Twitter feed, contenting himself with a simple "thanks for all the kind messages, very excited" to his followers.