Junior Strous won both races of the Firestone Indy Lights season-opening double header on the Streets of St Petersburg, while the five-strong crop of British rookies suffered a torrid introduction to American open-wheel racing.
Dutchman Strous started second in both races on his series debut, each time overtaking an AFS Racing/Andretti Green Racing polesitter to hand veteran team boss Paul Diatlovich a pair of emotional wins.
"This is like a breath of fresh air after the last couple years," said Diatlovich.
Jonathan Summerton took second in the opening race, ahead of a stirring battle between JR Hildebrand and Ana Beatriz. Summerton's AFS/Andretti Green team-mate Sebastian Saavedra was runner-up in the second race, with James Hinchcliffe and Summerton behind him.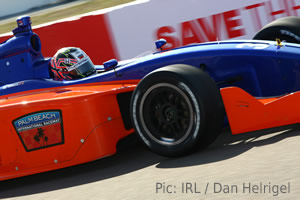 The best performance among the British drivers was, unsurprisingly, former series champion Jay Howard, who took fifth and eighth for Team PBIR. Howard is President of Karting at Palm Beach International Raceway, which runs the team.
Genoa Racing's Duncan Tappy has the unfortunate privilege of propping up the series standings, having completed only 14 laps across the two races. In the first he lost the road because of dirt on his visor, in the second he crashed on the first lap.
The Panther Racing duo of Pippa Mann and Martin Plowman had run well in pre-season practice but found race day more challenging. Plowman scored a pair of midfield finishes, while Mann managed only 18th in the first and clashed with fellow rookie Ali Jackson in the second.
Jackson took a respectable 11th in the opening race, two places ahead of fellow Brit Stefan Wilson, but neither took the flag in race two.
Strous leads the championship with a maximum 100 points after the opening weekend, with Summerton next on 72 points. Hinchcliffe is third with 63, ahead of Daniel Herrington on 56. Howard is fifth overall with 54 points.
The next race is on the streets of Long Beach in a fortnight's time.