Jenson Button stunned the opposition with another late pole-grabbing lap after looking off the pace during the majority of qualifying for the Monaco Grand Prix.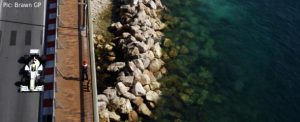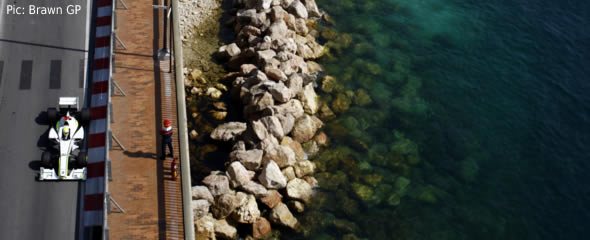 "It was a really tight fight," he said. "All weekend I have been fighting with Rubens and he has definitely had the upper hand.
"The McLarens have been up there, the Ferraris have been up there, the Red Bulls, so it's been a fun weekend and qualifying was no different. It was manic, which it always is in Monaco. I was right on the edge in that lap, so to snatch pole, I am chuffed to bits."
He will share the front row with the KERS-equipped Ferrari of Kimi Raikkonen and will face a tight battle for the lead into the first corner of a circuit where overtaking is notoriously difficult.
But any problems this might cause him pale in comparison with those faced by Lewis Hamilton, who crashed at Mirabeau during the first session and is stranded back in 16th on the grid.
"I just don't know what I was thinking, I just made a mistake," Hamilton said. "My race weekend for a win is, for sure, over."
The McLaren driver was not the only big-name casualty of Q1. Felipe Massa needed a replacement nose after a knock in the swimming pool complex, but was able to go out again and qualify – unlike the Toyotas and BMWs, which all failed to make the cut.
This put Force India into the second session for the first time ever, although both their cars were knocked out in Q2, along with the Toro Rossos. For a while it looked as if Button would be joining them as he struggled for pace until scraping through in eighth at the expense of Nelson Piquet, who spun.
The final session looked like being a battle between Raikkonen and Sebastian Vettel until both Brawns struck with late fliers, Button seizing pole and team-mate Rubens Barrichello taking third place.
Vettel will start fourth, ahead of Massa and Nico Rosberg on row three, Hikki Kovalainen and Mark Webber on four and Fernando Alonso and Kazuki Nakajima on five. Alonso's place may be in jeopardy, however, as Jarno Trulli claimed with some justification to have been blocked by him in the first session.
Results of Monaco qualifying:
Fuel weights are given in brackets at the end of each entry.
Jenson Button, Brawn GP: 1:14.902 (647.5kg)
Kimi Raikkonen, Ferrari: 1:14.927 (644kg)
Rubens Barrichello, Brawn GP: 1:15.077 (648kg)
Sebastian Vettel, Red Bull: 1:15.271 (631.5kg)
Felipe Massa, Ferrari: 1:15.437 (643.5kg)
Nico Rosberg, Williams: 1:15.455 (642kg)
Heikki Kovalainen, McLaren: 1:15.516 (644kg)
Mark Webber, Red Bull: 1:15.653 (646.5kg)
Fernando Alonso: Renault: 1:16.009 (654kg)
Kazuki Nakajima, Williams: 1:17.344 (668kg)
Sebastien Buemi, Toro Rosso: 1:15.833 (670kg)
Nelson A Piquet Jr, Renault: 1:15.837 (673kg)
Giancarlo Fisichella, Force India: 1:16.146 (693kg)
Sebastien Bourdais, Toro Rosso: 1:16.281 (699kg)
Adrian Sutil, Force India: 1:16.545 (670kg)
Lewis Hamilton, McLaren: 1:16.264 (645.5kg)
Nick Heidfeld: BMW Sauber: 1:16.264 (680kg)
Robert Kubica, BMW Sauber: 1:16.405 (696kg)
Jarno Trulli, Toyota: 1:16.548 (688.3kg)
Timo Glock, Toyota 1:16.788 (700.8kg)