British Indy Lights driver Pippa Mann escaped unscathed from the Miller Lite 100 at the Iowa Speedway despite a high-speed crash in which her car was sent into the wall at speed, went airborne and finally skidded down the track on its roof.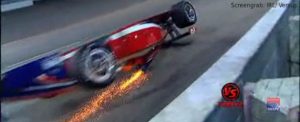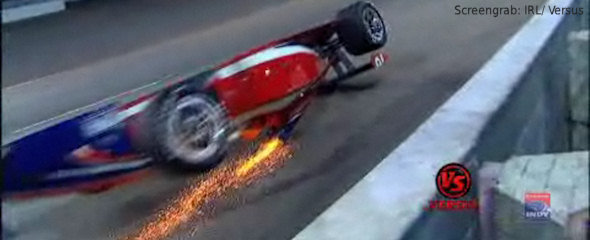 Mann had been struggling all race with an evil-handling car that had deteriorated badly since she had qualified it in seventh place. A half-spin on lap 53 left her several laps down and she was hit by James Davison while being lapped on the penultimate lap of the race.
She said: "I was just riding it out, but it was difficult since we were so off the pace. I was doing my best to stay out of the way, and I don't know what happened then.
"I just know I got hit, and I saw the wall coming, and I said – I won't tell you what I said. It is not printable, but it was something like, 'Oh crap!' I said that repeatedly, and then I was upside down.
"I could smell the sparks, and by the time the car stopped I had my belts off and hands on the ground and ripped out my ear phones trying to get out since I wanted to get out as quickly as I could because of the smell of the sparks.
"That was my first time upside down."
The next morning, writing on Twitter, she was philosophical: "Bit stiff and sore this morning. For some strange reason feel like got dragged along a race track on my head last night…"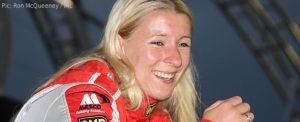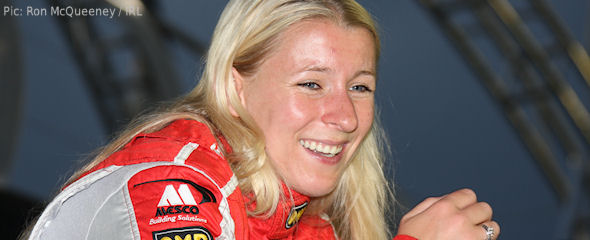 Her crash meant the race finished under caution, with Brazil's Ana Beatriz taking victory from Wade Cunningham and James Hinchcliffe in a 1-2-3 for Sam Schmidt Motorsports.
It was the best possible return for Beatriz, who was forced to miss the previous race in Milwaukee as she recovered from a heavy crash at the Indianapolis Motor Speedway and struggled with sponsorship difficulties.
She said: "At the finish, I was thinking it was just unbelievable. I nearly crashed there at the end right there around the flipped car.
"This team deserves it. I really want to celebrate with them tonight. The last couple of weeks have been tough missing out on sponsorship and then finding a way to come back."
Mann's team-mate at Panther Racing, Martin Plowman, finished eighth. He said: "I'm very happy with this eighth place today. I know it's not a great result but it was the best we could get out of the car today.
"At one point a lapped car chopped me and made me fall back to tenth position but I was able to pick up two spots at the end. I kept digging deep and brought the car back with the second Top Ten of the year."
The pair were the only Brits running in the race as RLR/Andersen's Ali Jackson could not arrange the international travel documents he needed to re-enter the United States from his Belfast home.
11 min 38 sec video. Pippa Mann's crash is from 10.15.