The likelihood of Max Chilton making the leap from GP2 Asia to the main series with his Barwa Addax team is vanishing after it unveiled a driver pairing for 2010 that did not include him.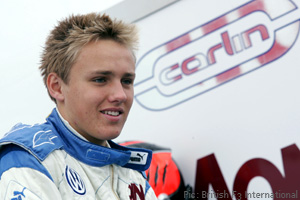 Yesterday Alejandro Agag's Valencia-based squad announced that Mexican Sergio Perez would be joining Dutchman Giedo van der Garde in its line-up for next season.
The pairing, featuring two strong and experienced drivers, gives Barwa Addax an excellent chance of winning a drivers' or constructors' title in 2010 after being pipped to both this year by ART and Nico Hulkenberg.
But it means that Chilton's hopes of making the transition from the winter series to the main event are now that much slimmer. A request to the team to clarify his situation met with no response.
Chilton had tested with Barwa Addax at Jerez, Yas Marina and Paul Ricard this winter. The first event did not go to plan with a crash and then an engine problem depriving him of running time.
Racing in November's first Abu Dhabi event of the season he had an unspectacular weekend, qualifying 21st and coming 16th and 17th in the two races, a result he called disappointing.
Perez said in the press release: "I'm grateful to both Telmex and the Barwa Addax Team for giving me the opportunity to compete this season with one of the teams that will give me every chance to fight for the big prizes in the GP2 Series.
"Addax, apart from being a great working atmosphere characteristic of the Latin temperament, also has a great team of professionals who work tirelessly to find excellence and are technically the most competitive team that I have been able to work with.
"This will be the most important season of my career because I really think that I will have options of fighting for the title at the end of the championship."
Agag added: "Sergio is already a driver of high repute in the GP2 Series after having performed well throughout the 2009 season… we will do everything in our hands to ensure that Sergio Pérez has a car that will give him every option of winning the overall title, as we have been doing in recent years."
Barwa Addax did point out in its official announcement that the Telmex-backed Perez had first come onto its radar courtesy of a 2008-09 GP2 Asia drive before going on to compete in the main series with Arden where he scored a pair of podiums at Valencia, which may be good news for Chilton in the future.