British F3 race-winner Max Chilton has bounced back from the disappointment of failing to secure a drive in the GP2 main series with his Barwa Addax team by signing for rival Ocean Racing Technology.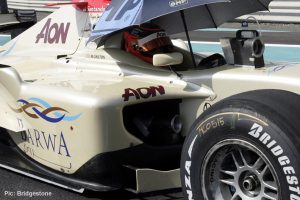 18-year-old Chilton was the top-ranked home driver in the British F3 International series over 2009 and was snapped up for GP2 Asia by Barwa Addax, one of the leading teams in the feeder series for Formula One.
He said at the time that he hoped to make the transfer from GP2 Asia over the winter to the main series next year, but last week his team named Sergio Perez and Giedo van der Garde as their drivers.
However, today Ocean announced they would be pairing him with 20-year-old Swiss driver Fabio Leimer. Team boss Tiago Monteiro said: "Rookies are always motivated because they want to progress and they always give their best with no motivation breakdown. It is not always true with experienced drivers.
"Fabio and Max have an excellent attitude on track, with their technical approach, but they also communicate really well with the team. They know our goals are ambitious but they have the qualities to make them happen."
Monteiro, who scored a podium for Jordan at the farcical 2005 US Grand Prix and is now driving in the WTCC, set up Ocean in 2008 by buying out the unsuccessful BCN team with his business partner Jose Guedes.
Last season they won their first GP2 race, with Alvaro Parente behind the wheel, and finished ninth in the team championship – missing fifth by two points.
Chilton, brother of BTCC driver Tom, said: "I am happy to join forces with Ocean Racing Technology, this is fantastic. It is a great team and its approach is smart. The structure is really professional and the engineering crew gives all the guarantees the team needs.
"As for me, it is a big step coming from F3 but I'm motivated. I hope to quickly secure some good results and I know Ocean Racing Technology is the team with which I can do so."