Jenson Button missed the chance to score a psychological victory over his new team-mate Lewis Hamilton when he could only finish runner-up in the voting for BBC Sports Personality of the Year Award.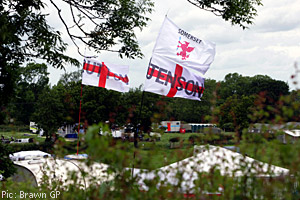 Hamilton famously missed out to boxer Joe Calzaghe in 2007 and Olympic cyclist Chris Hoy in 2008, while Button went into the 2009 contest as favourite to take victory.
Arriving at McLaren with a popularity award under his arm that the team's favourite son had twice been unable to win might have given him a valuable weapon as he seeks to carve out space for himself in a team built around Hamilton.
But footballer Ryan Giggs rode a wave of sentimental support as he approaches the end of his career to win the award from Button and heptathlete Jessica Ennis.
Despite Button's defeat, Formula One racing remains second in the table of sports that have won the award, behind athletics and ahead of boxing, football and cricket.
Former world champions Nigel Mansell and Damon Hill are two of the only three double award-winners, along with boxer Henry Cooper, while footballers rarely manage to unify the very tribal soccer block vote behind them to win.
Only Bobby Moore, David Beckham, Paul Gascoigne and Michael Owen had previously won the award, with legends such as Bobby Charlton, George Best and Gordon Banks all finishing as runner-up – although Justin Fashanu was disqualified in one of Hill's winning years, 1996, as most of his votes followed an organised campaign in Gay Times.
Earlier in the evening Brawn GP was shortlisted for the best team award, alongside the Irish rugby squad and the England men's and women's cricket teams, but missed out to Andrew Strauss' Ashes winners. BRDC club driver of the year Sarah Moore had made the long-list of 10 for young sports personality but not the final short-list of three from which diver Tom Daley was declared victor.
Sports Personality voting
Ryan Giggs: 151,842 – 29.4%
Jenson Button: 96,770 – 18.7%
Jessica Ennis: 80,469 – 15.6%
Mark Cavendish: 55,960 – 10.8%
Beth Tweddle : 38,907 – 7.5%
Tom Daley: 36,929 – 7.2%
Andy Murray: 19,936 – 3.9%
Andrew Strauss: 17,237 – 3.3%
David Haye: 13,916 – 2.7%
Phillips Idowu: 4,507 – 0.9%
Based on figures released by the BBC.