Forget the Monaco Grand Prix – the biggest event in motorsport for the whole of 2011 takes place this weekend with the centennial running of the Indianapolis 500.
Anything up to 400,000 spectators are expected to pack the historic Indianapolis Motor Speedway, a 2.5 mile oval circuit where race speeds can reach well in excess of 220mph and where the winner traditionally celebrates not with champagne, but with a pint of milk.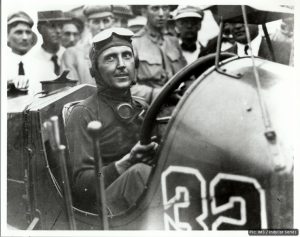 In the hundred years since 1911, when Ray Harroun brought his Marmon Wasp home to victory after more than six hours forty minutes at the wheel, the race has taken place 95 times – pausing only for the two world wars.
British victors include F1 legends Jim Clark and Graham Hill, the latter being the only driver ever to win the so-called Triple Crown of Motorsport by triumphing at Indy, Monaco and Le Mans.
More recently, England's Dan Wheldon won in 2005 and Scotland's Dario Franchitti joined the list of multiple winners with victories in 2007 and last year.
Both are among the favourites for this year's race, which is shaping up to be one of the most competitive in recent memory.
Upset victory?
Only 2.5sec separates pole-sitter Alex Tagliani from slowest qualifier Ana Beatriz, a full half second less than the previous closest spread of times, and the build-up to the race has been dominated by the misfiring of traditional powerhouse teams Penske, Ganassi and Andretti – potentially giving an outsider the opportunity to steal the show.
Tagliani's pole came in a nine-driver shoot-out where Ganassi team-mates Franchitti and Scott Dixon, the 2008 winner, were both sent out lacking enough fuel to complete their four high-speed laps. Dixon held on to start second but Franchitti was unable to set a time and will start ninth.
Their traditional rivals in Team Penske fared worse, with only championship leader Will Power even making it into the top nine. He will start in the middle of the second row in fifth.
Three-time winner Helio Castroneves, already under pressure after an erratic start to his season, suffered his worst-ever Indy qualifying and will line up 16th, while the third Penske car, driven by Ryan Briscoe, failed to make the race on the first day of qualifying and will start a lowly 26th.
But the troubles of the big two teams paled into insignificance compared with the nightmare May so far experienced by Andretti Autosport, which supplemented its usual four cars with a fifth for John Andretti, cousin of team-boss Michael.
After the first day of qualifying, only the 48-year-old veteran was in the race. Michael's son Marco, Britain's Mike Conway, media superstar Danica Patrick and the heavily-sponsored American Ryan Hunter-Reay had all failed to set high enough times.
In the hyper-competitive second day Patrick almost lost her chance to qualify thanks to a rain shower, but safely put her car in the field ahead of Briscoe. Conway was still unable to find enough speed, but Marco Andretti and Hunter-Reay found themselves competing for the final spot in the field.
Money talks
Andretti took it, leaving Hunter-Reay out in the cold – along with a number of sponsors crucial to the future of the entire team. In a hard-headed business decision that has infuriated fans, but also saved jobs at the team, Michael Andretti exploited IndyCar rules to buy a place in the field for his driver.
Under race rules it's the car itself that qualifies, not the driver, and Andretti was able to place Hunter-Reay in a car owned by rival team owner – and four-time winner – AJ Foyt. It had been qualified in the midfield by Bruno Junqueira, but for the second time in three years the popular Brazilian found himself forced to give way to a better-funded driver. Hunter-Reay will start 33rd and last – but he will at least be in the race.
The floundering of the big names opened up opportunities for smaller teams, many running on a comparative shoe-string, or fielding one-off entries with drivers making their only start of the season.
Tagliani's pole was a shock result, but it was only part of the story for team owner Sam Schmidt who enjoyed a spectacular run of success in qualifying.
A former racer left quadriplegic after a crash, Schmidt moved into team ownership after meeting F1's Sir Frank Williams. He expanded from his power base in the supporting Indy Lights series during the off-season by buying Tagliani's FAZZT Racing IndyCar team.
But he also continued his tradition of fielding one-off entries in the Indy 500, either alone or in partnership with other teams, and placed three other drivers in the field apart from Tagliani – two of them joining him in the nine-car pole shoot-out.
Townsend Bell will start fourth in another solo Schmidt entry while sixth-place Dan Wheldon is running for Bryan Herta Autosport in a technical partnership with Schmidt. Essex-born Jay Howard, starting his first Indy 500 from 20th after a run of bad luck in previous years, is 20th in partnership with Rahal Letterman Lanigan.
But the Schmidt cars are not the only underdogs in the upper reaches of the field.
Feel-good stories
After competing in nine previous Indy 500s Sarah Fisher will not race this year – but the team she now owns and runs sent Ed Carpenter out to take seventh place in qualifying. Both Carpenter and Fisher, who is 22 weeks pregnant, are firm fan favourites and a victory would be the feel-good sporting story of the year.
After several shaky years, former CART stand-out team Newman Haas returned to form with an impressive third-place qualifying for Spain's Oriol Servia, a driver whose lack of funding has denied him much chance to race in recent seasons, and 13th for rookie James Hinchcliffe.
Former winner Buddy Rice, who has not raced an IndyCar since 2008, put his Panther Racing entry into seventh place and the team's full-season rookie, JR Hildebrand will start 12th.
And Rahal Letterman Lanigan, which has been unable to afford a full-season entry since 2008, has teamed up with Belgium's Bertrand Baguette to start 14th. Baguette, a former World Series by Renault champion, was an over-achieving rookie last year but was not able to secure a second year in the series.
Four women will take the green flag to start the race, with Beatriz and Patrick joined by Switzerland's Simona de Silvestro and Britain's Pippa Mann – the latter becoming the first woman from the UK to attempt the race.
She will start 31st, having successfully qualified Conquest's second car when the team's full-season driver, Sebastian Saavedra, was unable to put the primary car into the race.
De Silvestro's qualifying effort was the stuff of legends, as the HVM Racing driver earned a place in the race despite suffering second degree burns to her hands in a practice crash.
A component failure at high speed sent her into the wall and twice airborne before her car finished upside-down and on fire. Despite heavily-bandaged hands she put the back-up HVM car – the oldest and heaviest machine still in use – into the race on the first day of qualifying.
Starting line-up
Row
Inside
Middle
Outside
1
Alex Tagliani
Sam Schmidt Motorsports
Scott Dixon
Target Chip Ganassi Racing
Oriol Servià
Newman/Haas Racing
2
Townsend Bell
Sam Schmidt Motorsports
Will Power
Team Penske
Dan Wheldon
Bryan Herta Autosport
3
Buddy Rice
Panther Racing
Ed Carpenter
Sarah Fisher Racing
Dario Franchitti
Target Chip Ganassi Racing
4
Takuma Sato
KV Racing Technology
Vitor Meira
AJ Foyt Enterprises
JR Hildebrand
Panther Racing
5
James Hinchcliffe
Newman/Haas Racing
Bertrand Baguette
Rahal Letterman Lanigan
Davey Hamilton
Dreyer & Reinbold Racing
6
Hélio Castroneves
Team Penske
John Andretti
Richard Petty / Andretti Autosport
E. J. Viso
KV Racing Technology
7
Justin Wilson
Dreyer & Reinbold Racing
Jay Howard
Schmidt / Rahal Letterman Lanigan
Tomas Scheckter
KV Racing Technology
8
Tony Kanaan
KV Racing Technology
Simona de Silvestro
HVM Racing
Paul Tracy
Dreyer & Reinbold Racing
9
Danica Patrick
Andretti Autosport
Ryan Briscoe
Team Penske
Marco Andretti
Andretti Autosport
10
Charlie Kimball
Novo Nordisk Chip Ganassi
Graham Rahal
Service Central Chip Ganassi
Alex Lloyd
Dale Coyne Racing
11
Pippa Mann
Conquest Racing
Ana Beatriz
Dreyer & Reinbold Racing
Ryan Hunter-Reay
AJ Foyt Enterprises