Jenson Button spoiled Rubens Barrichello's party in Barcelona with a mid-race strategy switch that handed him his fourth victory of the season and consigned his team-mate to a puzzled and frustrated second place.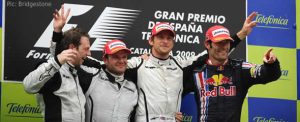 The Brazilian had gained the lead at the start and maintained it through the restart for an early safety car period, but lost it when Brawn GP switched Button to a two-stopper while keeping him on a three.
"I don't know how I lost the race, man," said Barrichello to his colleague as they compared notes while waiting to climb the podium with third-place Mark Webber.
"I didn't know whether the strategy would work when they put me on the two-stop," came the reply. "I'm glad I won, but I feel for you."
The sudden switch in strategy left observers confused and raised questions over whether Ross Brawn was – as he previously did at Ferrari – sacrificing Barrichello to protect his other driver's championship ambitions.
"If that happens I won't follow any team orders anymore," Barrichello is reported to have said afterwards to journalists. "I'm making it clear now so everyone knows.
"I had the race in my hands and I was quite surprised when they told me they were switching Jenson to two. I would like to understand why they changed that."
According to Ross Brawn later, it was to protect Button from the possibility that he might get stuck behind Nico Rosberg when he came out of the pits. The team believed, he said, that they had left Barrichello on a race-winning strategy.
Button said he had thought the change would cost him his chances: "They switched me to two stops to cover all our bases. Three stops was the quicker strategy, we thought. I wasn't sure about going to two stops because when I put the fuel on board it felt very heavy.
"Our strategy said that a three-stop was quicker, full stop. I don't ever want to go down that avenue – we both work very closely together within the team, and it's a very good atmosphere in the team.
"We are all here to win, and today it just went my way and it didn't for him. It could swing around for the next race, that's the way things go in F1."
With Button on pole and Barrichello the strongest driver across the weekend, a Brawn GP 1-2 always looked a possibility – but it was never a certainty.
Sebastian Vettel, starting second, was generally thought to have the best combination of car and fuel load, while the KERS-equipped Felipe Massa was expected to start like a rocket ship from fourth.
But Massa proved unable to deploy his KERS system at the start and, although he battled past Vettel without it, could not challenge the Brawns as Barrichello swept ahead of Button. Instead, he effectively protected them by trapping the young German behind him for almost the entire race.
Vettel's supposed advantage from his fuel strategy was further eroded by an immediate safety car period caused by a second-corner pile-up that scattered shards of carbon fibre across the width of the track.
Adrian Sutil cut the corner and rejoined the track from the left, just as Jarno Trulli was spinning back from the right after running off wide. When they met, hard, in the middle, Sebastien Buemi was forced to brake sharply and team-mate Sebastien Bourdais slammed into him from behind.
Those four cars were later joined as retirements by McLaren's Heikki Kovalainen, whose gear selection let him down, and Kimi Raikkonen, who slowed suddenly with a suspected electrical problem and was unable to even trickle back to the pits.
While that was all happening at the back, at the front Brawn GP was taking the fateful decision to shift Button to a two-stop strategy. His pitstop was some three seconds slower than Barrichello's, and the Brazilian disappeared up the road with his lighter fuel load, gaining almost a second a lap as he tried to build the lead he would need in order to fit in an extra stop.
He didn't succeed, rejoining eight seconds off the lead in fourth place after his second stop, trailing Massa and Vettel. But the team still believed he was on a winning strategy – what handed victory to Button was Barrichello's inability to fully exploit the period during which he was using the softer tyre choice and his rivals were all running on the inferior harder tyres.
Both he and Webber used their longer stints on the softs to jump Massa and Vettel – but Button was untouchable, lapping Lewis Hamilton, among others, on his way to the victory.
In the dying laps of the race Vettel finally managed to get past Massa as the Brazilian obeyed the increasingly frantic urgings of his engineer, Rob Smedley, to stop racing and start conserving fuel after a refuelling problem had left him with a lap less than he needed to make the flag.
Coasting home after letting Vettel through, he was passed for fifth by Fernando Alonso and almost lost sixth to Nick Heidfeld. The final point went to Nico Rosberg. Hamilton was ninth, ahead of Timo Glock.
The McLaren driver said: "It was a tough, long race and it was incredibly hard to keep the car on the road – it felt like driving on ice at times, especially at the end of the second stint, when the tyres were finished, and in the final stint, when there was very little grip.
"I gave it 100 per cent for the entire race so ninth place doesn't feel like the proper reward for the team, who worked hard all weekend. We're all hopeful that Monaco will be a better race for us because the absence of fast corners shouldn't hurt us as much as it did here – in fact, I'm already looking forward to it."
The result leaves Button clear at the top of the drivers' championship with 41 points to Barrichello's 27 and Vettel's 23. Brawn GP lead the constructors' battle with 68 points to Red Bull's 38.5 and Toyota's 26.5.
Spanish Grand Prix result
Jenson Button, Brawn
Rubens Barrichello, Brawn
Mark Webber, Red Bull
Sebastian Vettel, Red Bull
Fernando Alonso, Renault
Felipe Massa, Ferrari
Nick Heidfeld, BMW
Nico Rosberg, Williams
Lewis Hamilton, McLaren
Timo Glock, Toyota
Robert Kubica, BMW
Nelson Piquet Jnr, Renault
Kazuki Nakajima, Williams
Giancarlo Fisichella, Force India
Did not finish
Kimi Raikkonen, Ferrari, 17 laps
Heikki Kovalainen, McLaren, 7 laps
Jarno Trulli, Toyota, 0 laps
Sebastien Buemi, Toro Rosso, 0 laps
Sebastien Bourdais, Toro Rosso, 0 laps
Adrian Sutil, Force India, 0 laps
Drivers' championship
Jenson Button 41
Rubens Barrichello 27
Sebastian Vettel 23
Mark Webber 15.5
Jarno Trulli 14.5
Timo Glock 12
Fernando Alonso 9
Lewis Hamilton 9
Nick Heidfeld 6
Nico Rosberg 4.5
Heikki Kovalainen 4
Sebastien Buemi 3
Felipe Massa 3
Kimi Raikkonen 3
Sebastien Bourdais 1
Constructors' championship
Brawn 68
Red Bull 38.5
Toyota 26.5
McLaren 13
Renault 9
Ferrari 6
BMW 6
Williams 4.5
Toro Rosso 4