The threat to Donington Park following the collapse of its Formula One ambitions looks to have lifted after the family owning it pledged to protect its future.
Fans organising on Facebook to help support the historic circuit have welcomed the news, with campaign organiser Lee Coombs saying he was relieved to know that cars and motorcycles would be able to race there in the future.
Kevin Wheatcroft, son of original owner Tom, has already begun the difficult and expensive task of restoring the circuit to its former glory, according to an interview given to a local newspaper.
Speaking to the Derby Telegraph in response to Coombs' efforts, he said the museum, cafe and race control office had already been re-opened, and he was working to save as many jobs as he could.
And, in a contrast to the gloomy multi-million pound estimates of the work needed to undo the physical damage done to the circuit by Simon Gillett's failed F1 bid, he said it would cost about £600,000 to "put things back as they were".
In the longer term the family believes the job of running the circuit is too big for it and is seeking another leaseholder – Wheatcroft said so far 12 possible buyers have been found since the lease reverted on Christmas Eve.
He said: "I can reassure people we are doing everything we can to get things back to normal at Donington Park. It has been a very difficult time for the whole family, especially with the death of my father being played out against the problems at the circuit.
"We were given back the keys to the circuit and immediately started to work out what happens next. The first thing has been to try to save as many jobs as possible. We have been assessing what is required to put things back as they were.
"We owe it to the many people who have been loyal to us throughout this, including the fans, the race and rally organisers and our staff. We never ceased to be amazed by the level of love people have for this place and no-one has shown it more than the people signing up to the social networking group."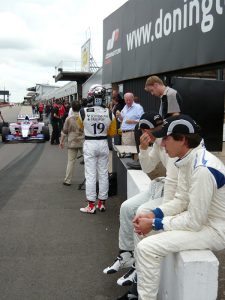 This is the 2500-strong Facebook group set up by Coombs to show fan support for the circuit and to promote a rally of vintage, historic and classic cars there in March as a further demonstration. Members include Indy Lights racer Pippa Mann and Brits on Pole co-principal Andy Darley.
The campaign now also has a separate website at savedonington.co.uk and a MySpace page at myspace.com/savedonington.
Speaking to Brits on Pole, Coombs said: "It was such a relief to hear that they have made the decision to restore the track and invite race cars and bikes back again."
He said the historic vehicle rally had originally been planned to involve a few members from a Lotus owners' forum he belongs to, but word had spread across other forums and once the Facebook page gained momentum the idea really took off.
But he was keen to point out the intention had never been to lobby the Wheatcroft family or to stage a protest – instead, it was to show support. He said: "I wanted to make sure they knew that if they paid to restore the circuit, it would be money well spent. But obviously I didn't want to create any pressure as it's the family's first Christmas without Tom Wheatcroft and, frankly, a long period of silence is understandable. This is just a show of support."
The biggest fear of group members had been that the circuit would be sold off for housing following the collapse of Gillett's scheme, which has left sections of the track dug up and much of the infield stripped down to bare earth.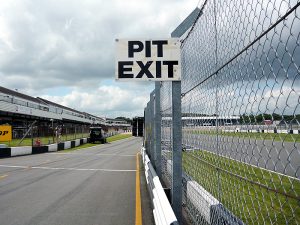 But Wheatcroft, who spent almost 32 years working there with his father, reassured them by saying: "It's a difficult time to speculate with the world economy as it is, but I worked with my father for all those years and loved it alongside him enough to know what it means to everyone to ensure it will be still be there for the future."
Tom Wheatcroft was the successful businessman and car collector who bought the circuit in the 1970s, renovating it and restoring it as a racing venue. He died in October last year, just as the Gillett bid to host the 2010 British Grand Prix was finally disintegrating.
His son's frank and poignant statement fell short of openly criticising Gillett, but left no doubt about where he placed the blame for a dismal period in the circuit's history and for the lack of enthusiasm among investors.
He said: "In my view, the debts and problems associated with the whole nightmare put people off. I think everyone felt misled by the situation.
"My father lived for his work and motorsport. He put his heart and soul into Donington Park and he was very upset by what happened to it and the mess it was left in.
"I am particularly upset because the Donington problems took up time that should have been spent with my father as he was dying. Whatever happens in the future, I will make sure his name will always be synonymous with the park."