YourRacingCar is an attempt by motorsports professional Hannah James to fund a race squad through the force of fan power, providing opportunities for up-and-coming drivers in the process.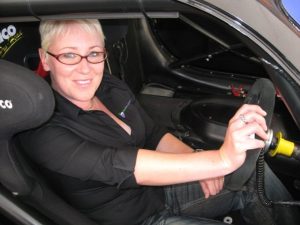 On the books already is 23-year-old Fulvio Mussi from Colchester, who came fourth in this year's Michelin Ginetta G50 Cup for YRC, scoring four podiums on the way.
Joining him for 2010 is Sarah Moore, 16, from Tockwith in North Yorkshire – reigning Ginetta Junior champion and a nominee for the 2009 BBC Young Sports Personality of the Year award, as well as the winner of the BRDC Club Driver of the Year award.
So, what's on offer for fans wanting to help keep these two on the road? Individuals who subscribe to the YRC club get their names and pictures or logos on the team's new Ginetta G40 race car, trackside access, special offers and a members' pack full of goodies.
There is also an option for small businesses which aims to harness the power of motorsport to kickstart their marketing. In return, the team is able to try out a business model that is more flexible and less reliant on attracting and keeping the scarce attention of traditional sponsors.
A year after the project was founded, we asked Hannah to explain a little more about the YRC concept, what it has achieved so far and what she thinks the future might hold. Her replies follow below. To find out more, visit the YRC website here.
BritsOnPole: Tell us a little about the Ginetta G50 – it's described on your website as "Bold, British and Brutal" which sounds like fun…
Hannah James: The G50 is a tricky customer but it's a fun car. We chose it for the 2009 season primarily because it was entirely new to the British Touring Car package and we needed something that was going to attract lots of interest to launch the YourRacingCar.com club. There have been a lot of changes this year to the rules and regulations as well as the type of competitor challenging for the title so we'll just have to see what happens.
How did you choose which drivers to back?
It's not easy, that's for sure. They need to have so much more to them than what the spectators see on track. The list of favourable characteristics is endless and being able to help us develop the YRC club is almost as important as talent behind the wheel. If I ever work out a formula, I'll bottle it.
Fan-funded ventures have been tried before in various formats – such as Justin Wilson's bid to fund himself by selling shares in his future earnings, and even a bid by myF1dream.com to lodge a team entry with the FIA this year. What made you decide on the particular format that you are using?
My background in touring cars is what really started it. A few years ago I knew absolutely nothing about racing (and some would argue I still don't!) but I was with an amazing crew at SEAT Sport UK. There wasn't one member of the team who didn't take time to answer my questions, however stupid they might have seemed, and it made me realise how much that goes on isn't readily available to the fans. There are a huge number of very knowledgeable people on the racing forums but I wanted people to have direct access to the horse's mouth. That's the backbone of the YRC concept.
The other thing that underpins it is recognising the fans' importance. I wanted each member to have their name and a picture on the car – as any sponsor would. Logistically, I knew what we were doing was a nightmare for everyone involved – from the engineers to the sticker guys – but it was important. I also wanted people to get value for money – each member now gets well in excess of the price of membership back in benefits and we have our partners to thank for that, not least of all Thruxton who stumped up a massive discount on BTCC tickets for each member.
How important is the marketing side of the venture? Contributors are eligible for benefits and offers from your corporate partners – how big a part of the business model is this?
[youtube:http://www.youtube.com/watch?v=jlCjuuOkARk]
Marketing is arguably all we do – we're listed as a sports marketing agency as there's nothing better to describe us as. We've had naff-all budget for any conventional marketing activities so we've relied heavily on our partners to help us in this area, the MK Dons Football Club for example. They allowed us to bring the car to the stadium on match day and Fulvio took part in a hilarious 'mascot race' at half time (you can find it on our YouTube channel). Most organisations would charge a fortune for that kind of exposure but the MK Dons are also 'fan people' so they let us do it for nothing. We promote the football club to our members and they see some ticket sales from that so everyone's a winner. Partners are really important.
Do you feel ventures like yours, that seek new methods of funding and supporting young drivers, could be a big factor in motorsport in the future? Do you see a limit to how far it could reach, or is the sky the limit?
In all honesty, I don't know. Seeking innovative funding methods to support motor racing activities is nothing new but most people revert back to the more traditional sponsorship methods in the end. Introducing anything new takes a lot of time and effort and the rewards are certainly not instant – I think a few of the other initiatives that have surfaced in recent years have failed because they didn't have a long term view. You can't enter into something like this thinking that it's a quick fix to raise a budget. It's not.
Giving young drivers a leg-up is extremely important. There are too many excellent young prospects instructing on track days because there's no money in the system to support their racing. The plan for YRC is to head into touring cars. Everything we do is focused in that direction. There is a limit as to how far YRC can reach because there are is a limited active motorsport fan base. If you do the maths you'll realise that with an average of 20,000-30,000 BTCC fans attending each race weekend, raising a touring car budget solely on £15 and £25 contributions is unrealistic. We've already launched a new project in the Guerrilla Marketing Club. It's based on the same principles as YRC membership, involving a large number of small businesses instead of the well-heeled few.
What is the best decision you made, and is there a decision that you would tackle differently if you could make it again?
The best decision I made was choosing Fulvio. We've had our moments and there'll always be things we disagree on but we couldn't have achieved what we have so far with anyone else. Plus he's a constant source of ridicule which is very important to a motor racing outfit. The driver always needs to be the butt of every joke! As for tackling things differently, cheesy to say it but I wouldn't change anything because every decision we've made has led us to where we are now. I don't tend to regret things, it's not worth it. I won't however be making some of those same decisions again!
This sounds like a stressful, if fun project – what do you do to relax?
Go racing – that's the relaxing bit. I find the 'real world' horribly stressful and I spend as little time involved in it as possible. I'm a bit faddy when it comes to hobbies and my latest phase is swanning around my local gym pretending to get fit. It's totally exhausting and there's a real art to not breaking a sweat in the gym.
Karting then a junior open-wheel series is often seen as the definitive route to success for young drivers. Can you tell us about some of the advantages and challenges of seeking to make an impression
in a tintop?
It depends how you define success – success for us is making it to each weekend first and foremost. I can't really answer that question by comparing them because I have no experience of open wheel racing. However, I love tintop racing and I think the plus points for young drivers are many – it's comparatively inexpensive (I can't believe I just used that word in relation to motorsport), unpretentious, entertaining to compete in and to watch (every time) and I think it's got far greater commercial value than open-wheel racing. Tintop is no longer the graveyard for retired open-wheel racers and a career can last considerably longer than is the norm in competitive open-wheel racing. There's a spirit in successful tintop drivers that I don't see in lid-less racing and, after all, this is show-business.
Do you think open-wheel racing will feature in your future?
I don't think so.
What is the key piece of advice you would give to an up and coming driver?
Chuck out the rule book.
What are your ambitions for the future, short-term and long-term?
Short term is to keep all the YRC members involved and happy to be part of the club. Mid-term is to make it to the grid with competitive cars. Long term is to keep the YRC clubs and concepts going from strength to strength and continue to give fans a real inside view of our world. The ultimate ambition is to enter NASCAR under British fan power.
Now, wouldn't that be immense?
– — – — –
A veteran of commercial and sporting roles in the British Touring Car, Le Mans Series and British GT Championships, Hannah James established YourRacingCar on the back of a beer mat at the world famous Autosport International Show in Birmingham in January 2009. Just three months later she found herself standing on the grid at Brands Hatch beside the YRC Ginetta G50 covered with the names of the founding supporters.