The familiar anthems of Germany and Italy rang out from the podium at Monza after the Italian Grand Prix – but this time it was for the unlikely driver / constructor pairing of Sebastian Vettel and Scuderia Toro Rosso.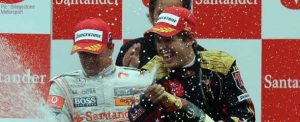 The 21-year-old became the youngest winner of an F1 race with a drive that rivalled for confidence anything seen during the era when Michael Schumacher and Ferrari were dominant.
The race began under the safety car because of the wet weather, but predicted heavy rain failed to materialise and drivers were eventually able to switch from extreme wet tyres to the intermediates.
Vettel built an immediate lead and kept it for the entire race aside from his pit stops. His luckless team-mate Sebastien Bourdais stalled on the grid after qualifying fourth and was a lap down before he could join the race.
His pace suggested Toro Rosso were unlucky not to have taken an impossible 1-2 finish.
McLaren's Heikki Kovalainen drove solidly to an unspectacular second place, unthreatened for the runner-up spot but never looking like challenging for the win.
Of the championship contenders, Robert Kubica made a one-stop strategy work to take third after qualifying 11th, but Lewis Hamilton was unable to pull off the same trick and finished seventh.
The Briton charged through the field from his qualifying position of 15th, reaching a high of second, and looked capable of taking an unlikely win.
But he lost much of the ground he'd made up because his planned single stop was too early for the switch to inters. He went out again on extreme wets but was eventually forced back in for a quick tyre change and emerged to duel successfully with Mark Webber.
Felipe Massa finished where he qualified in sixth, despite a late scare when he drove through potentially tyre-shredding debris with two laps to go, while Kimi Raikkonen was unable to copy Hamilton by extracting himself from the midfield mire and finished ninth.
Fernando Alonso was one of the first drivers to risk the change to inters and was rewarded with fourth, ahead of Nick Heidfeld for BMW.
The result means that Hamilton maintains a single point advantage over Massa going into the uncharted territory of a night race on Singapore's new street circuit. Vettel leaps to ninth in the standings and his team advances two places to overtake its parent outfit Red Bull for sixth.
Vettel said: "This is the best day of my life. The car worked well, we had a very good strategy, and it was a great race.
"At the closing stages I saw there was still P1 on my board and I thought, how can that be? I was just trying to keep it together.
"But from the end of the race through to the podium it was just amazing. There were scenes I will never forget.
"Who could have thought we would achieve this at the start of the season? It's great – fantastic – I'm speechless."
Hamilton's chances of victory were destroyed entirely by strategy – choosing the wrong tyres in qualifying, then not being able to switch to inters at the right time in the race.
He told British broadcaster ITV: "At least it was damage control. We came away with some points and we're still in the lead in the championship. It's definitely a relief knowing that we came out of here with some points and we didn't lose too many to anyone else.
"It would've been a real shame, a real mess-up, a real big mistake, if we were to come out of here having not scored any points and if Felipe had scored loads more than me, so it was good to get past Kimi and hunt them down, but at the next race we'll battle back."
Jenson Button was unable to challenge for most of the race, but did at least improve on his qualifying position by taking 15th. He said: "We decided to start the race from the pit lane today as it may have given us an advantage with tyre choice, however when the race started behind the safety car it just meant that my tyres and brakes were very cold.
"The first couple of laps were quite difficult with the amount of spray and I lost a place which was disappointing. Then I got stuck behind Coulthard in the middle of the race when my lap times were good, which compromised my race quite badly.
"The last stint was a lot of fun though as we left the very worn wet tyres on and I had a couple of purple middle sectors. But at the end of the day it was disappointing to come home in 15th position and we have not had a good weekend here."
David Coulthard wound up a place further back in 16th after battling with brake trouble all race, then being hit by Kazuki Nakajima at the end.
He said: "I had some difficulties in the beginning as my brake balance bar jammed, so I couldn't get rearwards on the brakes – they locked up and I went off at 2nd Lesmo. Thereafter I burned out the rear tyres early so I had blisters on the rear wets.
"Coming into the pitstop we put on the inters, but again seemed to burn out the rear tyres early, so I kept tip-toeing through the corners and kept losing places.
"In the end Nakajima came out around on the outside under braking at the Parabolica, but there's an arc through the corner and I couldn't avoid him – when he was turning in he hit my wing."