Jenson Button continued his dominance of the 2009 Formula One season with an unruffled victory from pole in Monaco, leading home team-mate Rubens Barrichello for Brawn GP's third 1-2 finish of the season.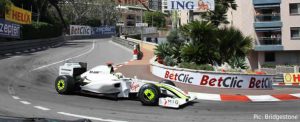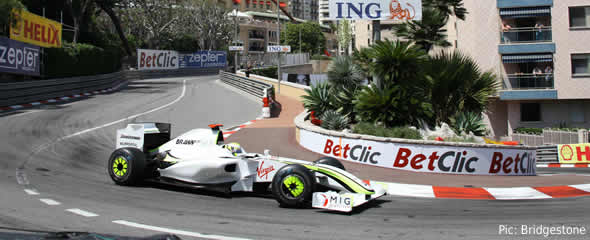 To add insult to injury for the chasing pack, Brawn CEO Nick Fry revealed after the race that Button's Mercedes engine had now completed three full race distances – and won every time.
"It is a very special moment, winning here in Monaco," said Button, admitting that his pre-race comments suggesting Monaco was just another race were a ploy to stop himself feeling the pressure of being favourite.
Lewis Hamilton, starting last after a crash in qualifying and a penalty for replacing his gearbox, spent the entire race among the backmarkers – although a change of front wing did allow him to set some of the race's fastest laps to that point.
Button's triumph came despite a rare strategic blunder from the normally-astute Ross Brawn that put his drivers under pressure from about lap eight, when the super-soft tyres they began the race on began to deteriorate.
Up until that point, Button and Barrichello had been running away from their pursuers, the Brazilian having beaten Ferrari's Kimi Raikkonen away at the start.
Once the tyre degradation kicked in the Finn cruised up to the rear bumper of the labouring Barrichello – however, a mass charge to overtake was prevented by Red Bull's Sebastian Vettel in fourth, who was suffering even more from tyre wear but was able to keep the much faster Felipe Massa, Nico Rosberg and Heikki Kovalainen behind him for several crucial laps.
Button's victory was built in this phase, as he proved far better able to preserve his tyres than his team-mate. From driving in formation, Barrichello dropped 18 seconds back in just a handful of laps but was, importantly, able to hold Raikkonen off until the Finn's scheduled pitstop.
Both Brawns then pitted ahead of schedule and, with the worst of the tyres behind them, were never seriously challenged for the 1-2 – although Barrichello spent the rest of the race with Raikonnen and Massa visible in his mirrors.
Massa's first attempt to overtake Vettel at the exit from the tunnel had led to him cutting the chicane and he was overtaken by Rosberg as he slowed to let the Red Bull driver past him. But Rosberg lost position during the pitstops and Vettel hit a wall soon after taking new tyres, and soon Massa was breathing down his team-mate's neck – where he stayed for the rest of the race.
If Rosberg's pit strategy lost him ground, Mark Webber's secured him best of the rest position behind the Ferraris – helped by a race-ending crash for Kovalainen. Rosberg and Fernando Alonso took sixth and seventh, leaving an intriguing scrap for eight between Sebastien Bourdais and Giancarlo Fisichella.
The Toro Rosso Frenchman eventually prevailed but Force India, who suffered heartbreak last year at Monaco when Adrian Sutil was shunted out of a points-paying position late in the race, were well pleased to have finished as high as ninth.
Button said his team had been certain the super-softs were the correct tyre compound to start the race on: "I was surprised when the covers came off and most people were on prime tyres – the harder of the two – as we never thought twice about running the option tyre.
"I got off the line clean and had Rubens behind. He had problems with his rear tyres though, and I was able to pull out a gap.
"Near the end of my stint I started struggling with a bit of oversteer, though not as bad as Rubens did. I started struggling and my times weren't quite good enough and that's why they called me in."
He said leading at Monaco, especially near the end of the race, created a unique set of problems: "It is very strange feeling because you start backing off a little bit and in reality, as has been said many times before it is the worst thing to do – you start thinking if I get this car to the end I am going to win Monaco!
"It's not that you are not thinking about driving but there is a part of your mind that's thinking about something else. So I had to really concentrate.
"The last two laps were very enjoyable though because I had a big enough gap and I knew nothing would go wrong with the car, so I could drive around in my steady pace and enjoy the moment."
Hamilton, who won last year in the rain, said: "That was one extremely tough race for me. It was not easy at all in any way and I am just glad to have finished it.
"I had hoped this weekend would see me fighting at the front again, but it was not to be and I am happy enough with my performance in the end simply because I did finish.
"During the race, I was thinking of one of the Rocky films when he said 'I just want to see the end of the fight' and I got to the flag having pushed as hard as I could throughout the race. Now, all I can say is that we will keep on pushing."
2009 Monaco Grand Prix result
Jenson Button, Brawn
Rubens Barrichello, Brawn
Kimi Raikkonen, Ferrari
Felipe Massa, Ferrari
Mark Webber, Red Bull
Nico Rosberg, Williams
Fernando Alonso, Renault
Sebastien Bourdais, Toro Rosso
Giancarlo Fisichella, Force India
Timo Glock, Toyota
Nick Heidfeld, BMW
Lewis Hamilton, McLaren
Jarno Trulli, Toyota
Adrian Sutil, Force India
Kazuki Nakajima, Williams-Toyota
Not classified
Heikki Kovalainen, McLaren
Robert Kubica, BMW
Sebastian Vettel, Red Bull
Nelson Piquet Jnr, Renault
Sebastien Buemi, Toro Rosso
Drivers' championship
Jenson Button 51
Rubens Barrichello 35
Sebastian Vettel 23
Mark Webber 19.5
Jarno Trulli 14.5
Timo Glock 12
Fernando Alonso 11
Kimi Raikkonen 9
Lewis Hamilton 9
Felipe Massa 8
Nico Rosberg 7.5
Nick Heidfeld 6
Heikki Kovalainen 4
Sebastien Buemi 3
Sebastien Bourdais 2
Kazuki Nakajima 0
Giancarlo Fisichella 0
Nelson Piquet Jnr 0
Adrian Sutil 0
Robert Kubica 0
Constructors' championship
Brawn 86
Red Bull 42.5
Toyota 26.5
Ferrari 17
McLaren 13
Renault 11
Williams 7.5
BMW 6
Toro Rosso 5
Force India 0