A1GP's World Cup of Motorsport may be on hold but the football-themed Superleague Formula aims to step into the gap and pull in a truly global audience, maybe even one that will rival F1.
That's the message from series boss Alex Andreu who says that, after three seasons, the series will have travelled as far as it can based on European involvement and will need to start seeking its 2011 participants and venues from other regions.
He said: "Although we're working hard finalising details for the forthcoming season, it's vital that we continue to keep one eye on the future and that means planning ahead to improve the championship further for 2011."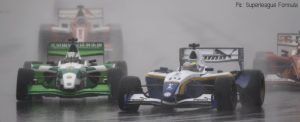 Although the series includes two Brazilian clubs, its first champion Beijing Guoan did not return to defend its title and the United Arab Emirates team Al Ain has also dropped out. So far, all races have been held in western Europe.
Andreu said it was time for that to change: "I think we've reached our maximum in terms of European races, what with the eleven confirmed for this season, and to continue our growth we need to be looking further afield.
"Therefore, it's important to add clubs and races from outside of motorsport's traditional heartland and to that end, we're making a great deal of progress."
The championship, due to kick off its 2010 campaign at Silverstone in April, says it has entered into negotiations with several nations regarding the hosting of races next year. A slot has also been left blank in this year's schedule in the hope of starting the migration overseas a year early.
Superleague's aim is to exploit the enthusiasm of Asian countries to promote themselves internationally through motorsport – already a key part of the Formula One business plan.
It is in talks with countries including South Korea, China and Indonesia where it hopes to tempt Beijing Guoan back and attract other football clubs interested in backing cars as well as race venues. All three nations ran A1GP teams, staged races, or both, while South Korea is also to make its F1 debut this year.
[youtube:http://www.youtube.com/watch?v=EMnNsdJt4eg]
The series says: "In Korea, promotion has already begun with giant LED billboards in Seoul screening footage from last season's Superleague Formula campaign.
"Indonesia meanwhile might not have to wait quite as long before taking its place on the Superleague Formula calendar with advanced talks ongoing for a street circuit near Jakarta to stage this season's championship final in November."
This would presumably be the Hermann Tilke-designed Lippo Village International Formula Circuit, which was to have staged an A1GP race in February 2009 but was forced to withdraw having not gained FIA approval in time.
The series also has its eye on giving Brazilian fans a home race, following in the footsteps of the IndyCar Series which has added the country to its 2010 schedule.
"Brazil too is an area of potential expansion with two circuits vying for inclusion on the 2011 schedule," said the series.
"The country's deep passion for football and motor racing, not to mention its rich history and success in both sports, makes it the ideal host for South America's inaugural Superleague Formula round."
It even says it is up to the challenge of re-kindling Australia's interest in non-F1 open wheel racing, with "steps being taken" to secure a street race on one of the locally popular V8 Supercar weekends.
This could prove a tough sell with the A1GP debacle currently shaking the foundations of the Queensland regional government. Both that region and New South Wales (NSW) have had their fingers burned by association with that series.
Away from the logistics of running the series, more news concerning this season's driver additions and line-ups is expected to be issued in the coming weeks.
One driver widely tipped to return is 2009 runner-up Craig Dolby, who challenged Liverpool FC's Adrian Valles for the title in the Tottenham Hotspur car.
But Valles himself has been speculatively linked with the vacant second seat at new Formula One team USF1 and may therefore not return.