Looking to find out how he got on? Click here.
Jenson Button is asking his fans to support his London Triathlon bid in August and help him with funds and publicity for for his chosen charity.
Button, a seasoned triathlete, is taking part in the world's biggest event to support the Make A Wish Foundation, a charity which supports children and young people fighting life-threatening illnesses and has already helped more than 5,000 families since it was founded in 1986.
Button is a patron of the UK-based charity and is asking for your support with the following message:
Hi everyone. Wow, what a start to the season!

As you probably know I've been taking part in triathlons over the past couple of years as a way of keeping fit for my racing. As we are so busy this year, I won't be able to do as many triathlons as I would like, but thought that I would give the London Triathlon a go. It's the biggest triathlon in the world, so I thought it would be a fantastic opportunity to raise money for a charity that is very close to my heart.

I'm a Patron of the Make A Wish Foundation and have had the pleasure of meeting lots of kids who are supported by the charity at our tests and races. Make A Wish grants magical wishes to children and young people fighting life-threatening illnesses and it is a real privilege to be involved with them. The kids are so inspirational and hopefully we can raise enough money to fulfil as many of their dreams as possible.

The London Triathlon takes place on Saturday 1 August with almost 11,000 competitors! The race covers a 1500m swim, 40km bike ride and a 10km run. I'm aiming to finish in the top 10 per cent, so no pressure! Somehow I have even persuaded my two race engineers Shov and Bono to take part! They will be competing in the half distance event.

So please dig into your pockets and sponsor me. Your money will be going to a very worthy cause and helping to make dreams come true for some very poorly children.

Thanks very much for any support that you can give…

Jenson

PS – Donating through Justgiving is quick, easy and totally secure. If you're a UK taxpayer, Justgiving makes sure 25% in Gift Aid, plus a 3% supplement, is added to your donation.
Donate on Jenson's Justgiving page here >>
You can also watch the video included with this post where he explains why he supports this cause.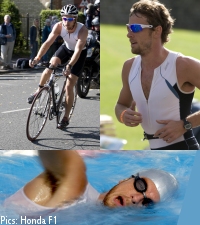 So, what's a triathlon? The answer is a demanding, multi-discipline endurance event where the competitor has to demonstrate proficiency in running, swimming and cycling.
Triathletes compete in various classes to see who can complete the course fastest overall, including timed "transitions" between the different disciplines.
The key to success is, paradoxically, not proficiency in the three disciplines. It is overall strength, endurance and power that counts, which is why triathlon training has stood Button in such good stead as part of his F1 training regime, in a sport that is increasingly being recognised as making huge physical demands on its drivers.
The London Triathlon takes place on August 1-2 and is centred on the ExCel Centre in Docklands. For spectators' information, and details of the event, click here.