For those people wondering what happened to A1GP's Team Pakistan seatholder and driver Adam Khan this year, it appears that he's been in the middle of a serious rebranding exercise.
Khan, who has recently taken up a demonstration driver role with the Renault F1 team, is focusing strongly on his Formula One links – most recently with the release of a Q&A from the team in which he talks about what it's like to drive the current Renault compared with last year's.
The change of focus was signalled earlier this year with the launch of a new website.
It stresses his GP2 record and his work with Renault, and acknowledges his involvement in A1GP for Team Pakistan – but the 2008/09 A1GP season, during which his car never made it to the racetrack, does not get a mention after its preview under 'teams'.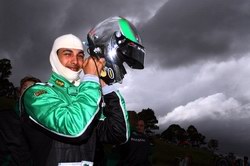 In fact, you have to look pretty hard to find out much about the series at all, although there is a Team Pakistan banner in the downloads sections, some data about the car and the preview, which sets out his expectations at the season start but makes no reference to what actually happened.
Yorkshireman Khan holds dual British and Pakistani citizenship, and his A1GP service led to his appointment as an official government ambassador for motor sports in Pakistan. In 2006 he was presented with a young achievers award by the country's president.
However, on the new website he describes himself as "a young British racing talent of Asian descent" – and the site's forums contain several bitter posts from Pakistani fans unhappy to discover his British links.
Khan has always struck us as here at BritsOnPole an extremely astute young businessman with a clear eye on his long term career development. For example, how many young drivers would have had the nous to sit out a season of A1GP to finish their degree?
While there's nothing on the site or in the Renault material to suggest he's walking away from A1GP or Team Pakistan for good, it perfectly clear where he feels his racing future lies. Firmly with Renault.
The F1 team's new Q&A with Khan sees him talk about his recent experience driving this year's R29. In it he says: "Both the aero tests have been a great experience for me and I've enjoyed the opportunity to drive the R29 and help with its development.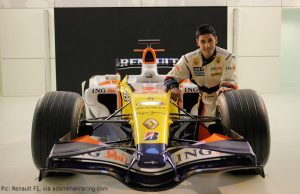 "Even though I was only doing straight-line aero runs, I was able to learn a lot about the car and hopefully gave the engineers some useful feedback."
His more usual job is to drive last year's R28 at Renault Road Show events and other promotions – and Khan says he could feel the difference between the two: "This year the cars have reduced aerodynamics and I definitely felt that during the aero test as I'm used to driving the R28.
"Inside the cockpit both cars feel almost exactly the same, although there are a few different buttons and functions on the steering wheel in this year's car, but I quickly got used to them."
He says of a recent drive at Spa-Francorchamps: "To drive an F1 car at probably the greatest circuit in the world was an immense privilege. Spa has always been one of my favourite tracks as it's so fast and flowing and has a lot of history.
"The approach to Eau Rouge was probably the most exciting part of the lap, but overall it's the perfect venue to appreciate the power, grip and performance of an F1 car."
And he finishes by talking about what circuit he is anticipating the most: "Probably the season finale in Abu Dhabi. It's a completely new venue for Formula 1 with an exciting new circuit built especially for this event.
"My family has its roots in the region and so it will be exciting to witness such a spectacular race in this part of the world."
It's clear he hopes that he'll be making a return to a few of these circuits – behind the wheel of an F1 race car.