In a qualifying contest full of guesses and second guesses it was Mark Webber who took the last and best gamble, putting his Red Bull convincingly on pole by using intermediate tyres when no-one else dared risk anything other than wets.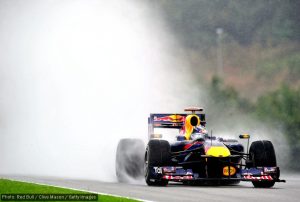 His team-mate Sebastian Vettel, pole-sitter at the previous two races, joined all the other drivers in the final rain-shortened qualifying session by playing safe and could only record the third-best time as the Australian showed them all a clean pair of heels.
The Sepang circuit in Malaysia delivered an entirely predictable rainstorm just as the first session of qualifying began, but weather radar suggested it was just a brief cloudburst that would not set in, and the top teams – bar Vettel – all decided to sit it out and wait for drier conditions later in the session.
But the rain continued, the track stayed wet – and among the drivers caught out and unable to set times that would get them into the second session were Lewis Hamilton, Fernando Alonso and Felipe Massa.
Hamilton said: "It was one of those days. It's been a good weekend so far, but we didn't expect it to rain any more and it got wetter and wetter. We couldn't get the time. Hard work tomorrow, but I'll do my best.
"I think we started a bit too late, but we went out at a similar time to all the other top teams – it was just unlucky. What can you do? You just have to shrug it off."
Jenson Button did set a good enough time to advance – but spun into the gravel trying to improve and beached his car. It had to be recovered to the pits and, under F1 rules, that meant he was barred from taking part in Q2.
He said:"I just aquaplaned off – I couldn't do anything about it. I hope I haven't damaged anything because I was stuck in the gravel with the engine running for quite a long time hoping to get pulled out.
"Very disappointing, and a very strange session with both McLarens out and both Ferraris out. I'm in front of my championship rivals, I suppose that's the best way of looking at it. But I'm behind other rivals which is a tough one."
With four of the top runners eliminated, and neither Webber nor Michael Schumacher setting particularly competitive times, gaps opened up for lower-ranked drivers to improve on their usual positions.
Virgin's Timo Glock and Heikki Kovalainen for Lotus became the first competitors from the new teams to make it through from Q1, with Jarno Trulli falling one place short of joining them.
And Force India's Adrian Sutil, Renault's Robert Kubica and Williams' Nico Hulkenberg and Rubens Barrichello duelled throughout Q2 and Q3 with the survivors from the more fancied teams for places at the front.
But by the end of Q2 it was Vettel holding the fastest time – and when Q3 was red-flagged because of the rain before anyone had set a time it looked like the young German might take a third consecutive pole position by default.
However, with little more than seven minutes left in the session, the cars were allowed out and the two Red Bull drivers chose to try different tyres. Webber said: "I didn't know if I was the only guy on inters, so didn't know I was the black sheep of the top ten. It was starting to spit at the end there but in sections it was definitely the tyre to be on, and in other places there was a risk of throwing it off."
At Mercedes Ross Brawn, unwilling to gamble too much when he already had Ferrari and McLaren beaten, decided discretion was the better part of valour and chose not to follow Webber's lead. "It was either a great call or a great disaster and we decided to play it safe," he said later.
Both Williams cars and Sutil set the running while Vitantonio Liuzzi, Kamui Kobayashi and Schumacher all floundered. "I am obviously a little disappointed with my result today – I clearly could have achieved more," said Schumacher.
Late laps by Vettel and Nico Rosberg forced the leaders back – and then Webber started to fly, knocking whole seconds off the fastest time as his tyres proved their worth.
In the end he finished 1.35sec clear of Rosberg, who will make his first front-row start alongside him. Vettel was third, ahead of Sutil, Hulkenberg, Kubica and Barrichello. Schumacher will start eighth, Button 17th, Alonso 19th, Hamilton 20th and Massa 21st.
Provisional starting line-up for the 2010 Malaysian Grand Prix
Mark Webber, Red Bull, 1:49.327 (Q1)
Nico Rosberg, Mercedes, 1:50.673 (Q1)
Sebastian Vettel, Red Bull, 1:50.789 (Q1)
Adrian Sutil, Force India, 1:50.914 (Q1)
Nico Hulkenberg, Williams, 1:51.001 (Q1)
Robert Kubica, Renault, 1:51.051 (Q1)
Rubens Barrichello, Williams, 1:51.511 (Q1)
Michael Schumacher, Mercedes, 1:51.717 (Q1)
Kamui Kobayashi, Sauber, 1:51.767 (Q1)
Vitantonio Liuzzi, Force India, 1:52.254 (Q1)
Vitaly Petrov, Renault, 1:48.760 (Q2)
Pedro de la Rosa, Sauber, 1:48.771 (Q2)
Sebastien Buemi, Toro Rosso, 1:49.207 (Q2)
Jaime Alguersuari, Toro Rosso, 1:49.464 (Q2)
Heikki Kovalainen, Lotus, 1:52.270 (Q2)
Timo Glock, Virgin, 1:52.520 (Q2)
Jenson Button, McLaren, (No Q2 time)
Jarno Trulli, Lotus, 1:52.884 (Q3)
Fernando Alonso, Ferrari, 1:53.044 (Q3)
Lewis Hamilton, McLaren, 1:53.050 (Q3)
Felipe Massa, Ferrari, 1:53.283 (Q3)
Karun Chandhok, HRT, 1:56.299 (Q3)
Bruno Senna, HRT, 1:57.269 (Q3)
Lucas di Grassi, Virgin, 1:59.977 (Q3)