Ferrari appear to have found the magic petrol can if their performance in the two Malaysian Grand Prix practice sessions today is anything to go by.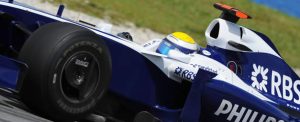 After a horrible season opener in Melbourne, in which neither car finished the race, Kimi Raikkonen and Felipe Massa put in the fastest times of the day in the second session – despite a strong showing from Williams' Nico Rosberg and Kazuki Nakajima in the first.
In the morning the Brawn GP drivers were close behind the Williams pair with the Ferrari duo coming fifth and sixth amidst KERS glitches on the Finn's car.
McLaren's Lewis Hamilton was in seventh place on a day that just kept on improving – not – after he scored a fine for speeding in the pitlane.
In the afternoon the Ferraris were the clear winners with Kimi Raikkonen more than a tenth of a second ahead of Felipe Massa.
Sebastian Vettel's secret tip for dealing for the Malaysian heat – an ice pack in the groin – evidently proved successful as he posted the third-best time.
Brawn GP's Jenson Button and Rubens Barrichello slipped back to sixth and seventh in the second session, suggesting they might not dominate on Sunday in quite the way they did in Melbourne – especially since Barrichello goes into the race with a five-place penalty for a gearbox change.
Heikki Kovalainen for McLaren could do no better than last place with only seven laps to his name.
You can catch up with video of both practice sessions on the BBC website.
Practice session two times
Kimi Raikkonen, Ferrari: 1:35.707 (40 laps)
Felipe Massa, Ferrari: 1:35.832 (38 laps)
Sebastian Vettel, Red Bull: 1:35.954 (40 laps)
Nico Rosberg, Williams: 1:36.015 (39 laps)
Mark Webber, Red Bull: 1:36.026 (36 laps)
Rubens Barrichello, Brawn GP: 1:36.161 (37 laps)
Jenson Button, Brawn GP 1:36.254 (31 laps)
Kazuki Nakajima, Williams: 1:36.290 (35 laps)
Heikki Kovalainen, McLaren: 1:36.397 (40 laps)
Nelson A. Piquet, Renault: 1:36.401 (35 laps)
Lewis Hamilton, McLaren: 1:36.515 (30 laps)
Jarno Trulli, Toyota: 1:36.516 (34 laps)
Sebastien Buemi, Toro Rosso: 1:36.628 (32 laps)
Timo Glock, Toyota: 1:36.639 (29 laps)
Fernando Alonso, Renault: 1:36.640 (20 laps)
Adrian Sutil, Force India: 1:36.875 (36 laps)
Robert Kubica, BMW Sauber: 1:37.267 (38 laps)
Sebastien Bourdais, Toro Rosso: 1:37.278 (30 laps)
Giancarlo Fisichella, Force India: 1:37.432 (27 laps)
Nick Heidfeld, BMW Sauber: 1:37.930 (37 laps)
Practice session one times
Nico Rosberg, Williams: 1:36.260 (27 laps)
Kazuki Nakajima, Williams: 1:36.305 (25 laps)
Jenson Button, Brawn GP: 1:36.430 (20 laps)
Rubens Barrichello, Brawn GP: 1:36.487 (22 laps)
Felipe Massa, Ferrari: 1:36.561 (21 laps)
Kimi Raikkonen, Ferrari: 1:36.646 (18 laps)
Lewis Hamilton, McLaren: 1:36.699 (16 laps)
Mark Webber, Red Bull: 1:36.703 (23 laps)
Sebastian Vettel, Red Bull: 1:36.747 (25 laps)
Timo Glock, Toyota: 1:36.980 (27 laps)
Jarno Trulli, Toyota: 1:36.982 (26 laps)
Giancarlo Fisichella, Force India: 1:37.025 (16 laps)
Robert Kubica, BMW Sauber: 1:37.039 (18 laps)
Nelson A. Piquet, Renault: 1:37.199 (12 laps)
Adrian Sutil: Force India: 1:37.241 (18 laps)
Fernando Alonso, Renault: 1:37.395 (12 laps)
Sebastien Buemi, Toro Rosso: 1:37.634 (22 laps)
Nick Heidfeld, BMW Sauber: 1:37.640 (17 laps)
Sebastien Bourdais: Toro Rosso: 1:38.022 (19 laps)
Heikki Kovalainen, McLaren: 1:38.483 (7 laps)