It's becoming a bit of a tradition that McLaren rises to the occasion of the Monaco Grand Prix by piling on the bling – and this year both Jenson Button and Lewis Hamilton are set to become diamond geezers for the weekend.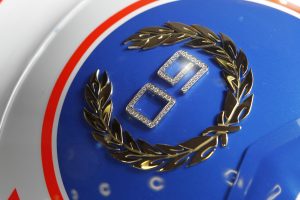 They will be sporting diamond crests on their steering wheels – surely an appropriate decoration for a piece of kit that costs tens of thousands in its own right. Manufactured from carbon fibre by the team, both were then customised by Steinmetz Diamonds, and are set to be unveiled today.
Both drivers are also due to reveal helmets featuring the design – but these appear to be for display and photography purposes rather than actual racing trim.
This is the eighth year that Steinmetz has been involved in the Monaco Grand Prix – but we don't talk about 2004, when a very valuable stone was mounted in the nose of Christian Klien's Jaguar, only to be lost for good when he crashed on the first lap.
Maybe he'll find it if he takes a turn or two round the course for Hispania Racing – or maybe not.
Button said of the promotion: "Monaco is one of the most prestigious and important races on the Formula 1 calendar, and it's a race I feel honoured to have won.
"To be racing for Vodafone McLaren Mercedes and using a unique Steinmetz diamond-crested steering wheel, which has been created especially for me, is a great honour.
"The workmanship on the diamonds is beautiful and it will be a great addition to the most glamorous race of the year."
Hamilton, who sported a diamond-encrusted number one on his helmet last year, added: "It's fantastic that Steinmetz is celebrating our world championship victories by incorporating unique diamond crests into the centre of our steering wheels.
"They look absolutely incredible and add a real bit of bling to the cars. I won at Monaco in 2008 wearing a Steinmetz diamond-studded helmet, so I'm hoping it will bring me luck again this year."
The last word goes to Lior Levin, the company's marketing director, who said: "Steinmetz is back in Monaco for our eighth season and we couldn't think of a better way to commemorate the occasion than working on a unique collaboration with Jenson Button and Lewis Hamilton.
"We look forward to a fantastic race on Sunday and hope the Steinmetz diamond crafted steering wheels will prove to be lucky for the drivers."