Fernando Alonso has signalled his intention to add a third Monaco victory to his list of career achievements after a searing performance in free practice today.
So far this season both Ferrari drivers have resisted the urge to show-boat in the practice sessions, preferring low-key running and set-up work that left them well down the time-sheets, but today was a different matter.
Despite still not working on outright pace, in the morning session he edged Red Bull's Sebastian Vettel by a few hundredths of a second and in the afternoon he was more than a tenth of a second clear of Mercedes GP's Nico Rosberg.
The latter had little running in the first session, spending half of it in the garage, and the question of whether the advantage at his team has now swung to Michael Schumacher remains unanswered as the pair shared the honours across the day.
The Red Bulls, untouchably fast in Barcelona, were up the front for most of the day with Mark Webber saying the team had made improvements in slow-speed running.
Domination of the top positions by the fastest four teams was disrupted by Renault's Robert Kubica – third-fastest in the opening session and sixth in the second – and by Adrian Sutil of Force India who was ninth and eighth.
McLaren's Jenson Button set a similar pace – eighth in the first session and ninth in the second – while Lewis Hamilton posted a pair of seventh-places.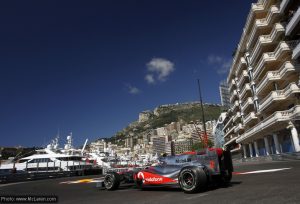 Despite the unremarkable times they posted Hamilton was happy with his car, calling it "fantastic". He said: "It's light years ahead of last year's car.
"Obviously, we weren't at the top of the time sheets, but I've really been enjoying driving around here today. When you're at Monaco, things just seem to happen so much faster than normal – it feels two or three times quicker than at other circuits. You're always on the edge, and if you brake just a little bit too late, then you'll be in the barrier. It's an incredible feeling.
"Of course, everyone at the front of the grid is looking pretty competitive, but I think we should be okay. Qualifying's going to be tough, I hope the weather stays okay for us and that we can fight for a spot in the top three."
Button added: "This morning felt good, we went through some positive set-up changes and I felt pretty happy with the car. For P2, we made some further changes, but I don't think all of them were an improvement and we went back in a few areas.
"Our long-run pace was good, so I'm feeling very happy about that. Tomorrow, we've still got a little bit of work to do to understand what's best for low fuel and new tyres. But I think we understand where we've got to be, because we were on the pace this morning.
"Overall, the Ferrari looks very quick, and I'm pretty sure Red Bull are hiding their pace. But it's the normal cars up at the front, and I'm sure we'll get a better idea on Saturday morning. McLaren always produces a good car around Monaco, they've won 15 times around here – more than anyone else – so hopefully we can do well on Saturday."
Ominously, Alonso confirmed there was more to come from Ferrari: "It's only Thursday, so the main aim was to understand how the tyres work and get confident with the circuit. On this track a major set up change might give you half a tenth, but trusting your driving can see you gain half a second.
"I can understand that there could be a level of pessimism after the show of strength from Red Bull in Barcelona qualifying, but we know that here, having the right set-up can make more of a difference than pure aerodynamic downforce and we already have a good baseline, given that last year, Kimi nearly took pole with a car that was far off the F10 in terms of its potential."
Practice two times
Fernando Alonso, Ferrari: 1:14.904
Nico Rosberg, Mercedes GP: 1:15.013
Sebastian Vettel, Red Bull: 1:15.099
Felipe Massa, Ferrari: 1:15.120
Michael Schumacher, Mercedes GP: 1:15.143
Robert Kubica, Renault: 1:15.192
Lewis Hamilton, McLaren: 1:15.249
Adrian Sutil, Force India: 1:15.460
Jenson Button, McLaren: 1:15.619
Mark Webber, Red Bull: 1:15.620
Vitaly Petrov, Renault: 1:15.746
Sebastien Buemi, Toro Rosso, 1:16.276
Nico Hulkenberg, Williams: 1:16.348
Rubens Barrichello, Williams: 1:16.522
Vitantonio Liuzzi, Force India: 1:16.528
Pedro de la Rosa, Sauber-Ferrari: 1:16.599
Kamui Kobayashi, Sauber-Ferrari: 1:16.818
Jaime Alguersuari, Toro Rosso-Ferrari: 1:17.023
Heikki Kovalainen, Lotus: 1:18.184
Lucas di Grassi, Virgin: 1:18.478
Jarno Trulli, Lotus: 1:18.667
Timo Glock, Virgin: 1:18.721
Karun Chandhok, Hispania: 1:20.313
Bruno Senna, Hispania: 1:22.148
Practice one times
Fernando Alonso, Ferrari: 1:15.927
Sebastian Vettel, Red Bull: 1:16.000
Robert Kubica, Renault: 1:16.016
Mark Webber, Red Bull: 1:16.382
Felipe Massa, Ferrari: 1:16.517
Michael Schumacher, Mercedes GP: 1:16.589
Lewis Hamilton, McLaren: 1:16.647
Jenson Button, McLaren: 1:16.692
Adrian Sutil, Force India: 1:16.805
Sebastien Buemi, Toro Rosso: 1:16.857
Nico Rosberg, Mercedes GP: 1:17.149
Rubens Barrichello, Williams: 1:17.331
Vitantonio Liuzzi, Force India: 1:17.704
Vitaly Petrov, Renault: 1:17.718
Jaime Alguersuari, Toro Rosso: 1:17.991
Nico Hulkenberg, Williams: 1:18.397
Pedro de la Rosa, Sauber: 1:18.434
Kamui Kobayashi, Sauber: 1:18.547
Timo Glock, Virgin: 1:19.527
Heikki Kovalainen, Lotus: 1:19.606
Jarno Trulli, Lotus: 1:19.902
Lucas di Grassi, Virgin: 1:20.566
Bruno Senna, Hispania: 1:21.688
Karun Chandhok, Hispania: 1:21.853