The entry list for the 2010 Formula One World Championship has been published, and it includes all the current teams – but at a price.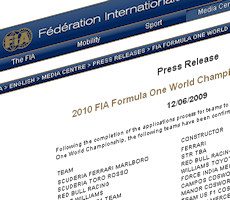 Ferrari, Red Bull and Toro Rosso, having signed the Concorde Agreement already, are judged to have made unconditional entries – a situation that is likely to infuriate Scuderia boss Stefano Domenicali in particular. All three are protesting their entries.
Brawn GP, McLaren, Renault, Toyota and BMW Sauber are judged to have made conditional entries, as all eight teams attempted to stipulate when their joint entry was made. They have been given until June 19th to resolve those conditions.
This looks like a clear bid by the FIA to split teams' organisation FOTA in a divide and rule tactic.
Definitely in
Williams and Force India have been included unconditionally, as was expected after they both stepped away from FOTA and submitted their own entries. Williams said it was pleased, with Sir Frank Williams adding: "2010 will be my 42nd consecutive season in Formula One."
Three new teams make the list, of which one is British-based. These are USF1 (as expected), Campos and Manor F1. Surprise omissions include Lola Group and also David Richards' Prodrive, which had already won a 2008 grid slot but declined to take it up in the face of legal action over the status of customer entries. This may be a reason for its omission.
And Northampton-based Cosworth is also a winner, after being named as engine supplier to the three new teams. However championship leaders Brawn and also Toro Rosso are revealed to have no engine deal in place at all.
Conditional or unconditional?
But the sting lies in the tail of the list, as it shows that the FIA appears to have accepted the legitimacy of conditional entries from McLaren, Toyota, Renault, Brawn and BMW – but not Ferrari, Red Bull or Toro Rosso.
A footnote states: "These five teams have submitted conditional entries. The FIA has invited them to lift those conditions following further discussions to be concluded not later than close of business on Friday 19 June."
Some speculation in the run-up to the announcement had suggested that the FIA would refuse to accept a conditional entry was possible and either discount the entries from teams that tried to do it, or rule that they had entered unconditionally.
Instead, it has attempted to drive a wedge between the FOTA teams by deciding that teams' ringleader Ferrari and the two Red Bull squads are bound by previous agreements forcing them to enter next year – while the other teams have the right to refuse to sign up if they wish.
FOTA fightback
FOTA has responded by attempting to go over FIA President Max Mosley's head. It has announced that it will appeal directly to the World Motorsport Council in an attempt to resolve the conflict.
It says in a letter to the body: "All of these teams are united in their concerns about the present situation and are deeply worried about the crisis that Formula 1 now faces, a crisis that appears to be self-generated.
"The teams wish to find a swift solution to the situation, but in case this can not be done, they will reluctantly have to seek alternative solutions which protect them.
"In a final attempt to resolve this crisis, further meetings are scheduled for the next seven days. We would urge your support to ensure the outcome of these meetings achieves a solution that allows long established competitors to continue in their sport within a framework of sound governance and stability that will ensure the future and sustainability of Formula 1."
An ominous note at the end of the entry list makes it clear that the five 'conditional' teams will be allowed to walk away if they do not agree the terms of their entry within the next week: "Pending completion of the discussions referred to above, further due diligence is currently taking place on other potential entries."
Lola, Prodrive haven't given up
Indeed, Lola Group has released the following statement: "The Lola Group acknowledges receipt of the communication from the FIA announcing the entry list for the 2010 FIA Formula One World Championship.
"The Lola F1 Team is not currently listed as an entrant but will continue to remain in discussion with the FIA as a potential new entry until the extended deadline of June 19th 2009."
A statement from Prodrive reads: "We are naturally disappointed by the FIA's decision not to include Prodrive in the preliminary entry list for 2010 as we believe we have the resources and set-up to be competitive in Formula One and would make a positive contribution to the sport.
"We will wait to see how things develop in the next week, up to the 19th June deadline set by the FIA and we remain prepared and ready to implement our plans should the circumstances allow. As we have seen before, there are quite often many twists and turns in Formula One.
"However, this weekend our attention is one hundred per cent focused on our Aston Martin team at Le Mans. For the first time we are challenging for outright victory with a three-car line-up, following two consecutive GT1 class wins, on the 50th anniversary of Aston Martin's historic 1959 win at the circuit de La Sarthe."
For all that this list seems like a damp squib on first glance, it's clear the controversy will continue unabated for a while yet.
| Team | Status | Location |
| --- | --- | --- |
| Williams | Previous competitor submitting an unconditional 2010 entry | British team based in Grove, Oxfordshire |
| Force India | Previous competitor submitting an unconditional 2010 entry | Based at the Silverstone race track in Northants |
| Ferrari | Previous competitor judged by the FIA to have submitted an unconditional 2010 entry | No British connections |
| Toro Rosso | Previous competitor judged by the FIA to have submitted an unconditional 2010 entry | No current British connections, but may be opening an aero facility in this country |
| Red Bull | Previous competitor judged by the FIA to have submitted an unconditional 2010 entry | Based in Milton Keynes, Buckinghamshire |
| Campos | New entrant | Spanish team owned by former grand prix driver Adrian Campos. Separate from the GP2 team now called Barwa Addax, which has been sold on. |
| Manor Grand Prix | New entrant | Latest iteration of a British motor racing team formed in 1990 by former single-seater champion John Booth and based in Nottingham/Sheffield. Races in various open-wheel formulas as Manor Motorsport and Manor Competition. Looks to be a partnership with the expected entry from Bicester-based Wirth Research. |
| Team USF1 | New entrant | Based in Charlotte, North Carolina, USA and planning to site its European base in Spain. Fronted by British journalist and F1 insider Peter Windsor. |
| McLaren | Previous competitor judged by the FIA to have submitted a conditional 2010 entry | Based in Woking, Surrey |
| Renault | Previous competitor judged by the FIA to have submitted a conditional 2010 entry | Based in Enstone, Oxfordshire |
| BMW Sauber | Previous competitor judged by the FIA to have submitted a conditional 2010 entry | No British links |
| Toyota | Previous competitor judged by the FIA to have submitted a conditional 2010 entry | No British links |
| Brawn | Previous competitor judged by the FIA to have submitted a conditional 2010 entry | Based in Brackley, Northants |