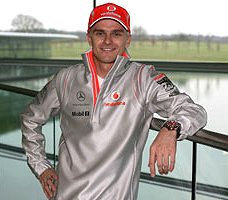 Photo credit: Vodafone McLaren Mercedes
Lewis Hamilton's new team-mate at McLaren is to be Heikki Kovalainen, the team revealed yesterday.
Pedro de la Rosa, the other serious contender for the seat, is to remain as the team's third driver while Gary Paffett will continue as a test driver.
Kovalainen, who enjoyed a great rookie season with Renault after a shaky start (although perhaps not as great as Hamilton's) has, in the words of the team, joined on a long-term contract and is due to start work in January.
He follows in the footsteps of World Championship-winning Finns and former McLaren drivers Keke Rosberg, Mika Hakkinen and Kimi Raikkonen (although only Hakkinen actually won while at McLaren).
So the omens are looking pretty good for the young driver, and Hamilton may have his work cut out to stay in front of him.
Kovalainen said: "I am so excited to join a team like Vodafone McLaren Mercedes. So far I have been blown away by the dedication and commitment to winning which is clear through the entire organisation and I am really excited about our joint future.
"As a Finn it's an honour for me to follow in Mika and Kimi's footsteps. I haven't really spent a lot of time with Lewis so far but from what I know I think we will work well together and do our best for the team."
And Hamilton is looking forward to the challenge: "As soon as the chequered flag went in Brazil I began to count down the days until Australia. I am really looking forward to 2008 and working with Heikki as my team mate.
"Together with the team we will do everything we can to ensure that our Championship challenge is as strong and focused as possible.
"My first year in Formula 1 was incredible and I was so fortunate to spend it with Vodafone McLaren Mercedes and I hope that Heikki will enjoy his first year with the team as much as I did mine."
McLaren CEO Martin Whitmarsh, fresh from a bruising battle with the FIA over the legality of next year's car, said: "We had a number of options open to us and as always we want to make sure that we have the most competitive driver line-up.
"I think that Lewis and Heikki will be a formidable combination. Both enjoyed great rookie seasons in 2007 and share a genuine passion for winning and being the best.
"Heikki made a strong impression and Lewis' performance so far has been outstanding and speaks for itself. I am confident that they will push each other on track and work well together off track."
He said that, with the continued inclusion of de la Rosa and Paffett as test drivers, he believed the team had a really strong package for 2008.
According to McLaren, the MP4-23 is scheduled to commence its on-track testing programme at an exclusive test at the Jerez circuit in Spain during the second week of January.