Mark Webber stamped the authority of the Red Bull team on the first day of Barcelona testing with an unofficial fastest lap that was nearly a second faster than his closest rival.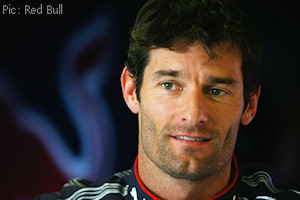 But other teams were quick to play down the significance of the time, with Mercedes' Norbert Haug predicting it will be swiftly eclipsed as the tests continue.
He – correctly, as it turned out – predicted the Red Bull was probably running light on fuel: "If they did that time with 150 kilos then they were quick, but this time is not the benchmark. It's early days, and I would not say that any team has made any serious qualifying efforts so far.
"Later in the test I would think we will see it – if the weather stays dry then I think we can have a feeling of what's going on."
Webber himself said the car had been set up for speed, but still had more to offer: "Obviously we put some new parts on the car which helped a lot – and of course the car wasn't in its heaviest form in terms of fuel. We still have problems, so we are not going on holiday tonight. We have more work to do, and we're still improving this car."
Behind Webber came the two Nicos, Hulkenberg and Rosberg. But while the Williams driver appeared to be trying qualifying runs when he set his time, his Mercedes rival spent most of the day working on his long run pace.
Barcelona is supposedly the test where teams start to roll out the complex aerodynamics they will use for the early races, but the unusual run-up to the 2010 season sees some teams operating at a much more basic level.
Virgin are still trouble-shooting a complex problem with their hydraulics, but lost most of the day when a test setting affected the handling of their car so badly that Lucas di Grassi crashed. They must now await the arrival of more parts.
Neither McLaren nor Ferrari did any work on raw speed, Jenson Button concentrating primarily on mechanical and aerodynamic set-up work and pleasing the team with the results. He set the fifth-best time, behind Pedro de la Rosa for Sauber.
Fernando Alonso lost some of the morning to a suspected electronic problem and spent the afternoon working on long runs. "It wasn't a perfect day," he said, "but it was very helpful nevertheless".
Test times for Barcelona day one
Mark Webber, Red Bull: 1:21.487 (109 laps)
Nico Hulkenberg, Williams: 1:22.407 (81 laps)
Nico Rosberg, Mercedes GP: 1:22.514 (107 laps)
Pedro de la Rosa, BMW Sauber: 1:23.144 (73 laps)
Jenson Button, McLaren: 1:23.452 (100 laps)
Vitantonio Liuzzi, Force India: 1:24.064 (64 laps)
Fernando Alonso, Ferrari: 1:24.170 (74 laps)
Vitaly Petrov, Renault: 1:24.173 (73 laps)
Jaime Alguersuari, Toro Rosso 1:24.869 (111 laps)
Lucas di Grassi, Virgin: 1:27.057 (31 laps)
Fairuz Fauzy, Lotus: 1:28.002 (76 laps)