Katherine Legge is hoping to return to American racing after three years in European production cars – and she is setting her sights on a drive in IndyCar.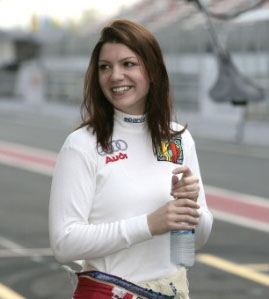 And she has primed fans to expect an announcement about her future plans this Friday, in a live web chat being carried out via Speed.com. More details here. A strong possiblity would be that she has raised the cash for a one-off appearance in the Indianapolis 500.
Legge started out in British F3 and the now-defunct Atlantic Championship, where she became the first female winner of a major race in north America. She went on to spend two years racing Champ Cars (now merged into the IndyCar Series), first for PKV and then for Dale Coyne.
She survived a horrendous crash at Road America in 2006 unscathed, after the rear wing of her car disintegrated, and is among a handful of women who have tested a Formula One car thanks to an outing with Minardi in 2005. She was also the first female tester in the A1GP series where she took to the track for Team GB.
She went on to spend three years driving for Audi in the DTM production-car series, although she never graduated into a properly competitive car, and she speaks warmly of her time with the manufacturer.
In a piece on her website setting out her future plans, she says: "I really enjoyed my time in the DTM. I learned so much from Audi and from the close, aggressive racing in the championship, and I made many, many friends.
"I'll always treasure my tenure with Audi and offer my full support to the team and my successor, Rahel Frey."
But she is now looking to the future: "I'm very excited about this opportunity. I feel very much at home in America and want to progress my career in the IZOD IndyCar Series and the Indianapolis 500, as it's such an exciting time for the series and that great race.
"I moved back to the States at the end of 2010 and am in talks with IndyCar teams and officials."