World championship contenders Sebastian Vettel, Lewis Hamilton and Felipe Massa were fastest as pre-season testing resumed at Jerez, while Michael Schumacher completed the most laps of anyone down in sixth place on the time sheets.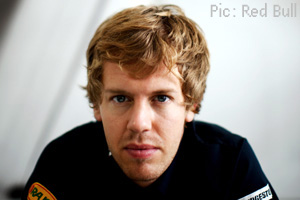 Red Bull's Vettel set a best time of 1min 22.593 during his 99 laps as teams once again dodged cloudbursts and damp conditions, with Hamilton 0.424 seconds behind and Massa a further 0.187sec back.
The team's head of race engineering, Ian Morgan, said: "We got a lot of laps done and the car has been good and reliable. Sebastian and the car were consistent on the long runs in the dry which is promising. We're continuing to make steady progress – the car is better than it was last week and every time we turn a wheel we seem to be moving forward a little bit."
A McLaren statement said Hamilton had made solid progress with the car's balance and set-up: "Lewis caused an early red flag during the morning's running when his car was stopped by a minor systems error. Thereafter, he ran without problems and was able to achieve some encouraging times over several long runs.
"With heavier rain forecast for tomorrow, the team will continue with its reactive programme, continuing to put miles on the car while simultaneously looking at improving performance."
After the first four-day Jerez test was blighted by rain, the weather again caused problems for drivers.
Sauber's Pedro de la Rosa, returning to racing after several years testing, said: "Another wet day in Spain, you know? It's difficult to learn a lot about the car and the tyres in these conditions. I am desperate, because I need the dry running and it's the only way of learning about myself, the car and the new regulations."
And Toro Rosso's technical director Giorgio Ascanelli added: "The conditions were pretty similar to the last test so there was nothing much to learn. The fifth day with rain on the same circuit – it's boring."
Despite the conditions, Lotus continued its exemplary progression towards the Bahrain start line with a solid 76 laps from debutant and former A1GP Team Malaysia pilot Fairuz Fauzy at the wheel.
The newcomer wasn't going to break any speed records but, as the team's technical director Mike Gascoyne pointed out, a problem with the car's power steering left him grappling with quite a handful on the Lotus T127's debut testing laps.
Gascoyne said: "It's been an excellent day for the whole team. I want to say a big thank you to Fairuz who did an excellent job today with the first proper day of running.
"With the car we had no major reliability issues – a few niggles with overheating which were quickly solved and then the car ran pretty faultlessly. The power steering issue will be fixed for tomorrow so all in all a very successful first day and a busy evening ahead preparing the car for tomorrow."
As well as seeing Lotus' British Racing Green livery on track British fans were treated to the full testing debut of a young star who many hope could one day rival the performance of Hamilton and Button.
Paul di Resta spun in the wet conditions of the morning session, causing a red flag, but that was no barrier to him running through a solid 74 laps and collecting useful data for the team. He swapped out of the car for the afternoon session in favour of race driver Adrian Sutil.
Speaking after the test, he said: "The objective was to get as much running as possible and we managed over 300km, which was a great effort, particularly given the weather conditions," he said.
"It seemed to be drying out and then the rain would return again so you were in a sort of no-man's land with the tyres.
"Even with this type of weather though, I could get an impression of the car. It seems stable and good all round, a genuine improvement on the car I drove last year. I'll be back in the car in Barcelona and I am looking forward to it already."
Both di Resta and Fauzy completed the necessary mileage to qualify for the FIA Superlicence they will need if they are to take part in grand prix weekends – as the Scotsman is scheduled to through most of the season.
Testing times Jerez day one
Sebastian Vettel, Red Bull: 1:22.593 (99 laps)
Lewis Hamilton, McLaren-Mercedes: 1:23.017 (72 laps)
Felipe Massa, Ferrari: 1:23.204 (72 laps)
Sebastien Buemi, Toro Rosso: 1:23.322 (79 laps)
Pedro de la Rosa, Sauber-Ferrari: 1:23.367 (76 laps)
Michael Schumacher, Mercedes: 1:23.803 (111 laps)
Adrian Sutil, Force India: 1:24.272 (28 laps)
Paul di Resta, Force India: 1:25.088 (74 laps)
Vitaly Petrov, Renault: 1:26.237 (55 laps)
Rubens Barrichello, Williams: 1:27.320 (109 laps)
Fairuz Fauzy, Lotus: 1:31.848 (76 laps)
Timo Glock, Virgin: 1:32.417 (10 laps)