Part-time IndyCar driver Will Power took his second pole position of the season by leading a Team Penske 1-2-3 during qualifying for the Rexall Edmonton Indy, beating his full-time team-mates Ryan Briscoe and Helio Castroneves to the top spot.
Power was hired by the team as a replacement in case Castroneves lost his tax evasion trial, and when the Brazilian returned a free man he was supposed to retire to the sidelines, apart from a cameo appearance in the Indianapolis 500.
But his results were so strong that Roger Penske had little option but to field him in more races – and must now make the decision whether to allow him to race on equal terms with his two championship contenders, possibly taking points from them.
"The starting position gives you an advantage, but you've really got to use it," said Power. "In these races anything can happen. I just hope to have a clean race. I'd love to win one before the next few races that I get to race in.
"But a great job for the team. Penske 1-2-3. It's exactly how we want to be. Hopefully we can finish that way tomorrow."
With Target Chip Ganassi Racing's Scott Dixon and Dario Franchitti grabbing the fourth and sixth spots there was very little room for the smaller teams to shine on the 1.973-mile, 14-turn, Edmonton City Centre Airport circuit.
Franchitti was one of several drivers to say that the bumpy runway surface made for a difficult drive: "It's bloody physical and it's hard work, but it's a lot of fun. I kind of dragged the thing round – it wasn't a pretty lap at all.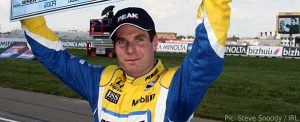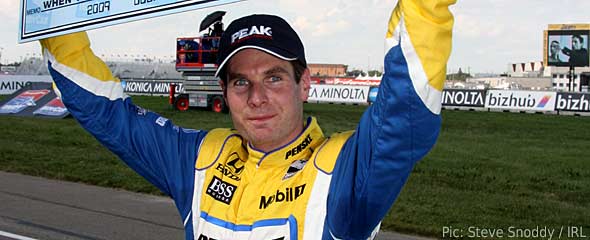 "It was absolute aggression, just hanging it out. Got me a couple of tenths and got me in the top six. After that, in the top six, we didn't have the balance that we needed. I think we were living on the newness of the tyres in the run before. We've got a lot of work to do for tomorrow."
Only Newman/Haas/Laningan's Graham Rahal was able to break into the six-car Firestone Fast Six pole shoot-out, with big names and road course specialists such as Mario Moraes, Paul Tracy and Robert Doornbos falling short in the second 12-strong qualifying session.
But no-one is ruling out Tracy, who finished fourth in a one-off drive with little preparation last year. Franchitti said: "Give him a sniff of a win and look out. I'm telling you, man. He looks good. Typical P.T. Spectacular. I think if he can get amongst it tomorrow, he will be difficult to beat."
Among the drivers to fail to make is even as far as the last 12 were Justin Wilson, a pre-qualifying favourite who had reached every Fast Six so far this season, and the three leading Andretti Green Racing drivers, Marco Andretti, Tony Kanaan and Danica Patrick.
Wilson said: "Coming into the weekend, I expected to be on the pace so I'm disappointed with 15th but I did the best I could today. We'll work on things and try and improve for tomorrow, and see if we can move up through the field and have a good race."
Dreyer & Reinbold's Mike Conway did manage to crack the top 12 but could not make it any further and will start 11th. Dan Wheldon's miserable road course season for Panther continued, crashing in practice and going on to qualify 22nd of 23.