Silverstone has agreed a new contract to host the British Grand Prix from 2010, ensuring the future of Formula One in the UK for at least a decade – and tickets are already on sale.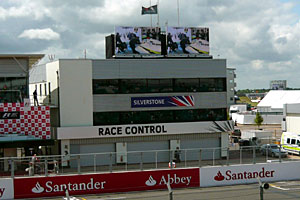 The deal, announced this morning in London by BRDC president Damon Hill and circuit managing director Richard Phillips, is for 17 years, but includes an option for either party to end it after 10 years.
Silverstone will pay £12 million for the rights to host the 2010, a figure that rises to £16.8 million by 2015 and continues to escalate at the rate of five per cent a year.
However a concession by Ecclestone has seen this figure reduced from his original asking price of seven per cent in a bid to make the deal more palatable to the circuit.
Book tickets via the Silverstone website here, with a 20 per cent discount on offer for "early" booking >>
The deal was announced at a press conference called on Friday afternoon and hosted at the Grosvenor House Hotel on London's Park Lane, the scene a few hours earlier of an industry awards event.
Phillips said that the length of the lease was a big plus for the circuit: "We've always had five-year deals and never been able to get the investment we needed to redevelop. But 17 years gives us the ability to invest and move forward.
"We've always had the belief the British Grand Prix was an important cornerstone of Formula One but, with Bernie, you're never quite sure. At the end of the day, though, you have to have a British Grand Prix.
"We've now got to sell a lot of tickets, to get out there and do similar sorts of numbers as we did this year when we had 230,000 people there over the three days, and promote the event."
He said that the circuit's previously poor relationship with Ecclestone and Formula One Management was now less of an issue.
"There's a good working relationship with him now and we don't have any issues. The details have been much better-negotiated than previously. This one is well thought through."
He said that work on parts of the circuit layout aimed at allowing it to host the MotoGP event would mean it would need to be approved by the FIA if those sections were to be included in an F1 layout.
Hill added: "It is not easy to enter into a contract of this magnitude and you have to take on a lot of responsibility, but the BRDC wanted this relationship to continue.
"Everyone was well aware that the British GP is not just a sporting event, but it is dynamo of the industry in this country. Losing it would have been damaging and perhaps there would have been no coming back."
"The title of Silverstone as home of motor sport has come true. It is a place for all motor sport. Everyone in the BRDC loves motor sport and we are looking forward to the MotoGP as well as the British Grand Prix."
He said that the BRDC had recognised that it was crucial for the circuit to continue to host top international motorsport events, and so it had been prepared to back the commercial negotiating team headed by Phillips in securing a deal with a "satisfactory" level of risk.
Work at the circuit is to start after Christmas to upgrade areas including the pit and paddock complex.