Over-enthusiastic young racers who neglect their school work to spend all their time on track are being targeted by a new campaign fronted by Lewis Hamilton.
The Lewis Hamilton Foundation and the Motor Sports Association are jointly pushing a new initiative aimed at ensuring children do not let their studies slip while they chase their motorsport dreams.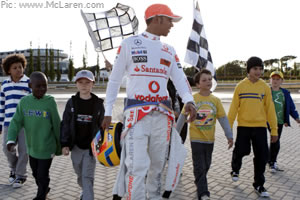 Hamilton, who was a pupil at Stevenage's John Henry Newman School, said: "When I started in karting, my dad made absolutely sure that my school work wasn't neglected, and that I was still doing the same work as the other pupils in my class.
"I was lucky: both my dad and, later, Ron Dennis and McLaren made it clear to me that I would only be able to continue racing as long as I kept up my studies. Their encouragement actually made me work harder at school, and I'll always be grateful to them for making me do that."
From this season, junior competition licences will include a requirement for the licence-holder to get written permission from their school to get the time off needed to go racing.
It is hoped the new licence clause will encourage co-operation between a driver's school and their parents or guardians, with the aim of ensuring neither their education nor their driving suffers.
Hamilton said: "When you're just starting out in motorsport, I know there's a feeling that anything's possible and you want to go racing all the time – but you must never neglect your schoolwork.
"Your studies can't suffer because you want to go racing and, hopefully, this initiative will make it easier for schools and parents to achieve this."