Another Friday, another timesheet-topping performance from Nico Rosberg, who is widely recognised to be putting in some of Williams' best performances for years.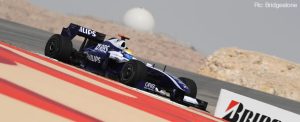 But will he ever be able to translate it into a decent race performance? Or even qualifying?
No such doubts surround Fernando Alonso who must be a hot prospect for tomorrow's pole shoot-out following his running-on-fumes performance in Shanghai last weekend, and his 1:33.530 blast round the Bahrain track in today's second practice session.
In an uneventful first session Rosberg was strong – but not strong enough to hold off McLaren's Lewis Hamilton plus both BMW Saubers on top form.
Hamilton topped the timesheet with a fastest lap of 1:33.647, with Nick Heidfeld nearly three-tenths of a second behind him, slightly faster than colleague Robert Kubica.
Rosberg was fourth on 1:34.227, two-tenths of a second faster than Brawn GP's Jenson Button in fifth, who was himself nearly a tenth of a second behind McLaren's Heikki Kovalainen in sixth.
The second session saw the lap times drop, at least for the leaders, with Rosberg proving once again that he can lead the field when it doesn't count – whatever then happens in qualifying or during the race.
His 1:33.339 was almost a fifth of a second faster than Alonso, who continues to dominate his team-mate Nelson Piquet. The Brazilian broke his front wing and ended up 15th, down with the struggling Ferraris.
The Toyotas of Jarno Trulli and Timo Glock ran strongly for most of the session, with the Italian ending up third-fastest, ahead of the Red Bull pair of Sebastian Vettel and Mark Webber, and also Button. Hamilton ended up 11th.
Session two times
Nico Rosberg, Williams: 1:33.339 (36 laps)
Fernando Alonso, Renault: 1:33.530 (25 laps)
Jarno Trulli, Toyota: 1:33.616 (37 laps)
Sebastian Vettel, Red Bull: 1:33.661 (29)
Mark Webber, Red Bull: 1:33.676 (32 laps)
Jenson Button, Brawn GP: 1:33.694 (35 laps)
Adrian Sutil, Force India: 1:33.763 (30 laps)
Timo Glock, Toyota: 1:33.764 (37 laps)
Rubens Barrichello, Brawn GP: 1:33.885 (30 laps)
Kazuki Nakajima, Williams: 1:33.899 (36 laps)
Lewis Hamilton, McLaren: 1:33.994 (30 laps)
Giancarlo Fisichella, Force India: 1:34.025 (23 laps)
Sebastien Buemi, Toro Rosso: 1:34.127 (37 laps)
Sebastien Bourdais, Toro Rosso: 1:34.366 (26 laps)
Nelson A Piquet, Renault: 1:34.411 (29 laps)
Felipe Massa, Ferrari: 1:34.564 (34 laps)
Robert Kubica, BMW Sauber: 1:34.605 (31 laps)
Kimi Raikkonen, Ferrari: 1:34.670 (28 laps)
Heikki Kovalainen, McLaren: 1:34.764 (35 laps)
Nick Heidfeld, BMW Sauber: 1:34.790 (33 laps)
Session one times
Lewis Hamilton, McLaren: 1:33.647 (19 laps)
Nick Heidfeld, BMW Sauber: 1:33.907 (17 laps)
Robert Kubica, BMW Sauber: 1:33.938 (17 laps)
Nico Rosberg, Williams: 1:34.227 (24 laps)
Jenson Button, Brawn GP: 1:34.434 (15 laps)
Heikki Kovalainen, McLaren: 1:34.502 (24 laps)
Rubens Barrichello, Brawn GP: 1:34.531 (18 laps)
Felipe Massa, Ferrari: 1:34.589 (17 laps)
Mark Webber, Red Bull: 1:34.827 (21 laps)
Kimi Raikkonen, Ferrari: 1:34.827 (19 laps)
Kazuki Nakajima, Williams: 1:34.880 (24 laps)
Sebastian Vettel, Red Bull: 1:34.938 (21 laps)
Nelson A Piquet, Renault: 1:34.974 (21 laps)
Adrian Sutil, Force India: 1:35.021 (18 laps)
Jarno Trulli, Toyota: 1:35.036 (22 laps)
Giancarlo Fisichella, Force India: 1:35.042 (16 laps)
Timo Glock, Toyota: 1:35.333 (20 laps)
Fernando Alonso, Renault: 1:35.348 (24 laps)
Sebastien Bourdais, Toro Rosso: 1:35.353 (22 laps)
Sebastien Buemi, Toro Rosso: 1:35.369 (15 laps)