Jenson Button and Rubens Barrichello grabbed the front row of tomorrow's Australian Grand Prix as the former Honda team celebrated its survival and its new sponsorship deal with Virgin by dominating qualifying.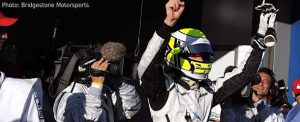 While powerhouse teams struggled and defending world champion Lewis Hamilton suffered a gearbox failure that sent him to the back of the grid, the story of the day was the remarkable revival of the outfit from Brackley, as Button, Barrichello, Ross Brawn and Richard Branson proved they're not your average B-team.
The Brazilian was fastest in the first two qualifying sessions, but the English driver stole pole in the dying seconds of the last session.
Publication of the cars' weights after qualifying showed the team's fast times were legitmate – far from being fuelled light to grab pole, they were actually heavier than most of their rivals.
Reflecting on the difficult months since Honda announced its withdrawal from F1, Button said: "Tomorrow is obviously the most important day of the weekend and there is a lot of work to be achieved to come away with a successful result – however we have to remember where we have been and really enjoy this moment."
Team owner Ross Brawn added: "Watching our two cars top the timesheets throughout qualifying capped an excellent day for the team which began with the announcement of our new partnership with Virgin this afternoon."
The Virgin Group, which had considered buying the team outright when Honda offered it for sale, has agreed a "substantial sponsorship deal" which will see the cars re-branded for the next race in Malaysia.
Richard Branson, grinning with unconcealed excitement, was a constant presence in the team's garage through qualifying. He said: "I have always said I would love for Virgin to be involved in F1 and I am thrilled that we will be entering this fantastic sport with people as skilled as Ross Brawn and the Brawn GP team."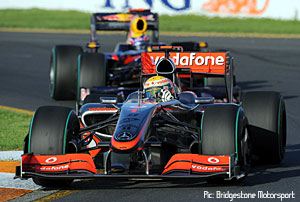 While Button celebrated his first pole since 2006, world drivers' champion Lewis Hamilton endured a miserable day. He squeaked through into the second qualifying session as the slowest of the 15 cars to progress, then suffered a gearbox failure that ended his participation.
Investigations showed the team would have no option but to replace the gearbox, giving him a five-place penalty that briefly dropped him to the back row of the field. He was promoted to 18th by a later stewards' penalty against Toyota which wiped out the times set by Timo Glock and Jarno Trulli.
Speaking before he knew about the adjustments to his qualifying position, Hamilton said: "Something broke on the rear of my car on my second flying lap in Q1 – I just lost all drive in the gearbox and couldn't continue. The team will look at the problem tonight and I'm determined to drive an attacking race. We'll have some fun from 15th tomorrow. My congratulations to Jenson and everyone at Brawn GP – they have done a fantastic job all weekend and have a lot to look forward to tomorrow."
Later he added: "I don't really have a game plan – I'll just go for it. We have to make sure we extract the best from our strategy and give us the best opportunity to get as high up as we can.
"I just have to hope we don't get caught up in any first-corner incidents and we just plod along and pick off as many positions as possible. If you look at the Ferraris last year they had a pretty bad race, with one starting dead last, yet they still got a point, so anything can happen. If there are only seven cars that finish again I have to hope I'm one of them."
Team boss Martin Whitmarsh told the BBC:"Last year we were developing our car up until the last race and so we are under-developed. That was a decision we took last year and, given that we won the drivers' championship, you have to say it was the right call.
"But some of our competitors – as you saw in qualifying – have probably been developing this year's car since this time last year and, consequently, have a much more developed car than us. We must face that fact and catch up as quickly as we can."
The Toyota pair had set the sixth and eight best times, but stewards decided the cars' rear wings were too flexible. Ferrari and Red Bull face a similar investiagtion after Williams lodged a protest against their cars.
The adjustments and protests marred three absorbing qualifying sessions where the KERS-equipped big names struggled and the teams that had shone in pre-season qualifying confirmed their pace.
Williams' Nico Rosberg was fastest in all three practice sessions and looked the best of the rest behind the Brawn cars until late runs from Sebastian Vettel and an underfuelled Robert Kubica dropped him to fifth overall.
Vettel's Red Bull team-mate Mark Webber had looked like featuring at the front, but his final run was only good enough for 10th, a place behind the Ferraris of Felipe Massa and Kimi Raikkonen. All three gained places from the Toyotas' exclusion, leaving the Ferrari pair – who were both fuelled light – flattered by their sixth and seventh place net qualifying positions.
Nick Heidfeld, running with KERS unlike his team-mate Kubica, was the fastest driver to fail to make the final qualifying session, with Fernando Alonso just behind him. McLaren's Heikki Kovalainen fared slightly better than his team-mate Hamilton, his 14th place translating to 12th after the Toyota exclusion, while both Toro Rosso and Force India had disappointing sessions.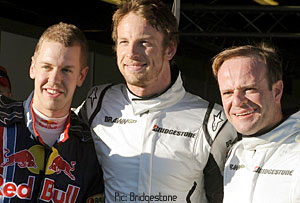 In the post-qualifying press conference, Button and Barrichello were full of praise for their team and its new management.
The Englishman said: "The last five or six months for both of us have been so tough. Going from not having a drive or any future in racing to putting it on pole here is just amazing, it really is, and I have got to give all credit to the team and Ross [Brawn] and Nick [Fry] for making this happen. This is where we deserve to be after the tough times we have had.
"It has been a long time since we had a car that has been competitive. It is 2006 since I put it on pole here. It has been very tough and there are a lot of people who stand by you which is fantastic, but there are obviously a few people that don't and they forget and they don't believe. The important thing is that the people within team believe and that is all we care about.
"We have proved it with this car – I think both of us have done a good job this weekend so far, considering the amount of mileage we have had in the car. You can say it is a very good car but you still need to get the laps in and make it your own."
Barrichello added: "I just want to emphasis what Jenson said – that it has been a critical three or four months back home waiting for news. I am really happy to be here and I need to congratulate Ross and Nick for doing an outstanding job.
"Everyone who has touched this car needs a credit because it is a really good car, so well done to the boys back in England as well. It has been tough the last few seasons and so it is good to be back in a great car."
And he predicated the new deal with Virgin could stop the team being overtaken mid-season as rivals developed their cars faster: "Right now, we have good guys at home and we just need some more money to develop the car. I think this car will be very, very good for the first four races but we definitely need to have things coming through to keep on going.
"I was very glad to see Virgin signing with us this morning because it means that we have the attitude in the team to carry on, because that could have been a problem during the year."