Lewis Hamilton and Jenson Button were handed a 1-2 finish in the Turkish Grand Prix after Red Bull's championship-leading rivals Mark Webber and Sebastian Vettel tripped over each other fighting for dominance.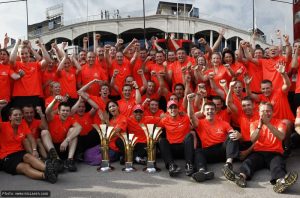 Webber had led away from the start and Vettel, who had made but failed to sustain an opening lap pass on Hamilton, captured second during the pitstops, but disaster struck on lap 41 of 58 when the increasingly-impatient German sniffed a chance to take the lead.
He attempted a pass on his team-mate at turn 11, gaining a slight advantage but not enough to make the move stick. Replays suggest Vettel then turned in on Webber slightly and the two cars collided, spinning off the track and letting the McLarens through.
Team boss Christian Horner could be seen on the pit wall shouting "move, move" at his TV monitors as the drama unfolded, he and almost the whole of his crew throwing their arms in the air with dismay as the track exploded with flying carbon fibre.
Webber recovered to rejoin the race, with enough of a gap back to fourth-place Michael Schumacher that he was able to pit for a new front wing and still make the podium – but Vettel was out of the contest and dropped from joint first to fifth in the championship as a result.
To make the likely post-mortem even more bitter at Red Bull, a few laps later the two McLaren drivers staged a master-class on how team-mates should fight each other for the lead.
The current and former world champions fought a ruthless but carefully-measured duel that began at turn 12 with Button seizing the advantage, then continued through the final corners and up the start/finish straight before concluding at turn one with Hamilton wresting it back.
After that, Button eased off and conceded the win – both McLaren drivers having been alerted by their garages to a greater-then-anticipated fuel consumption that required them not to do anything too dramatic during the final laps if they wanted to finish the race under their own power.
Earlier a dramatic opening lap had seen battles between Vettel and Hamilton, and between Button and Schumacher but, once the early action had died down, the top eight cars were unchanged from their grid positions.
With no sign that Fernando Alonso had the pace to mount a charge through the field from 12th, and the top four cars well-matched for pace and seemingly in a completely different contest from the rest of the field, a fairly unremarkable race seemed likely.
Hamilton showed signs of wanting to find a way past Webber, but his greater straight line speed was counter-balanced by the Australian's ability to take the long turn eight faster. When a slow pitstop saw him fall behind Vettel, it seemed his hopes for victory were over.
The first warning not to relax came when unexpected rain clouds loomed up around the circuit, with imminent disruption predicted for much of the middle section of the race – although, in the end, there was only a light shower that had no effect on the track conditions.
And then came the two attempts at passing for the lead, by Vettel and by Button, that decided the race – and may yet turn out to have done the same for the drivers' and team championships.
Interviewed while the race was still going on, Vettel said: "I'm not very happy now, obviously, after something like this happening. We were all pretty much same conditions, same pace, same speed, and I felt I was able to go faster. I was able to come closer the last two or three laps.
"I dived down the inside, I had the corner, I tried to focus on the braking point and suddenly I lost the car. You can see we touched. I'm not the kind of guy who pushes the fault to one guy. We are a team and we have to respect that. My race is over. Not the best case."
He was greeted sympathetically at the Red Bull pit wall when he arrived back at it, and Webber was careful to avoid incendiary comments in the post-race press conference, where he said: "There was a long way to go in the race so it was not a guaranteed victory."
But he was in no doubt who was responsible for the fateful move: "Seb had good a top speed advantage and he went down the inside. We were side by side and then it looks like he turned pretty quickly to the right and we made contact.
"It definitely happened fast. It's a shame for the team, but not an ideal day. The McLarens were solid today. It was good race between all four of us up until then.
"Neither want to make contact but it can happen sometimes when both are in front. It is never ideal but it happened. I still got a few points, but it was an interesting few metres on track between both of us. It wasn't the result either of us wanted."
Hamilton said: "Red Bull made it tough for us and we put up a good fight. You can see how close it is between the four of us. It's down to momentum, and we will do the best we can to win both championships.
"We have been ragging their tails for some time. It's such an achievement for us, to really be able to take the battle to them. They had one strength that was particularly good here, we had a strength here, and we didn't know how it would pan here.
"Me and Jenson were able to compete with them and push our hardest to be on their tails. To get our second 1-2 is fantastic."
He said he hadn't expected to find Button trying to pass him, as he believed both drivers had been told to take it easy and save fuel: "It was really unexpected but a fair battle with him and a great result for the team."
But Button said: "I got the run down into the Turn 12 on the outside and I had to have a go, really.
"We were wheel to wheel for about five corners, it was good fun. When Lewis got back past into Turn One we were in fuel-save mode. The race was a lot quicker than we thought it would be. We had to save a bit of fuel at the end."
Turkish Grand Prix results
Lewis Hamilton, McLaren: 1:28:47.620 (25 points)
Jenson Button, McLaren: +00:02.645 (18 points)
Mark Webber, Red Bull: +00:24.285 (15 points)
Michael Schumacher, Mercedes GP: +00:31.110 (12 points)
Nico Rosberg, Mercedes GP: +00:32.266 (10 points)
Robert Kubica, Renault: +00:32.824 (8 points)
Felipe Massa, Ferrari: +00:36.635 (6 points)
Fernando Alonso, Ferrari: +00:46.544 (4 points)
Adrian Sutil, Force India: +00:49.029 (2 points)
Kamui Kobayashi, BMW Sauber: +01:05.650 (1 point)
Pedro de la Rosa, BMW Sauber: +01:05.944
Jaime Alguersuari, Toro Rosso: +01:07.800
Vitantonio Liuzzi, Force India: +1 lap
Rubens Barrichello, Williams: +1 lap
Vitaly Petrov, Renault: +1 lap
Sebastien Buemi, Toro Rosso: +1 lap
Nico Hulkenberg, Williams: +1 lap
Timo Glock, Virgin: +1 lap
Lucas di Grassi, Virgin: +1 lap
Karun Chandhok , Hispania: retired after 52 laps
Bruno Senna, Hispania: retired after 46 laps
Sebastian Vettel, Red Bull: crashed after 39 laps
Heikki Kovalainen, Lotus: retired after 33 laps
Jarno Trulli, Lotus: retired after 32 laps
Drivers' standings
Points-scorers only are included
Mark Webber, Red Bull: 93 points
Jenson Button, McLaren: 88 points
Lewis Hamilton, McLaren: 84 points
Fernando Alonso, Ferrari: 79 points
Sebastian Vettel, Red Bull: 78 points
Robert Kubica, Renault: 67 points
Felipe Massa, Ferrari: 67 points
Nico Rosberg, Mercedes GP: 66 points
Michael Schumacher, Mercedes GP: 34 points
Adrian Sutil, Force India: 22 points
Vitantonio Liuzzi, Force India: 10 points
Rubens Barrichello, Williams: 7 points
Vitaly Petrov, Renault: 6 points
Jaime Alguersuari, Toro Rosso: 3 points
Sebastien Buemi, Toro Rosso: 1 point
Kamui Kobayashi, BMW Sauber: 1 point
Nico Hulkenberg, Williams: 1 point
Constructors' standings
Points-scorers only are included
McLaren: 172 points
Red Bull: 171 points
Ferrari: 146 points
Mercedes GP:100 points
Renault: 73 points
Force India: 32 points
Williams: 8 points
Toro Rosso: 4 points
BMW Sauber: 1 point