It's the British Grand Prix. Brits on Pole's biggest weekend of the year. A chance for Lewis and Jense to race in front of their home crowds – and, very likely, for the latter to take another decisive step towards securing a fairytale drivers' title.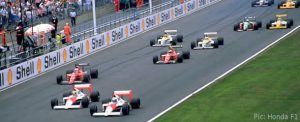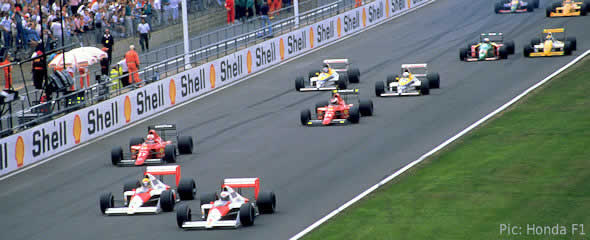 So why can't we get more excited?
Well, the answer to that's bloody obvious, isn't it? Largely because this is slated by F1 promoter Bernie Ecclestone to be the last appearance of the race at the circuit that staged the first ever Formula One World Championship race in 1950 and which has been its home for the last 22 years.
Nor is it much helped by the fact that our home race is also being disfigured by an argument between the sport's competitors, promoter and sanctioning body that is odds-on to wreck the entire thing, and propel it into the kind of disastrous split that crippled American open-wheel racing for more than a decade and handed NASCAR its dominance.
But one thing at a time, eh?
Defining the problem
Like Keith at F1Fanatic we have absolutely no problem with the idea of a Grand Prix at Donington Park per se. Many drivers and fans say it is a fantastic circuit (if possibly a little narrow for car racing) and the work Tom Wheatcroft did to bring it back from dereliction in the 1970s was admirable. Ayrton Senna held the lap record for 15 years.
However we do have a significant problem with the behaviour of the current promoter, Simon Gillett, that started on the eve of last year's race with his collaboration in the disgraceful announcement of the venue switch. It was disgraceful because it was timed as a deliberate wrecker for the race weekend and for Silverstone's 60th anniversary celebrations. (And it wouldn't surprise us if some stunt is pulled this weekend, either, as a similar wrecker for the circuit's farewell.)
That terrible first impression hasn't been contradicted by anything he's done since, including a persistent inability to give a credible and well-supported account of how the circuit will ever be ready for the 2010 race.
All we have had from Mr Gillett is a set of largely unsupported promises that have yet to be substantiated, coupled with evidence that active damage is being caused to a popular and well-used circuit, damage that largely harms the club racers that are its bread and butter.
We'll go further and say we think that Silverstone, in contrast to a Gillett-managed Donington, has something to offer that no other British circuit can match. It's not entirely a commercial venture – a fact that has been widely deployed to discredit it by Bernie Ecclestone among others, but which we think instead wins it a huge amount of credit.
Silverstone's strengths
What is the British Racing Drivers' Club actually for? Here are its objectives, as taken from its website: to promote the interests of motor sport generally; to celebrate any specific performance in motor sport; to extend hospitality to racing drivers from overseas; and to further the interests of British drivers competing abroad.
The way we see it, promoting the interests of British motorsport and British drivers is pretty well-aligned with our interest as fans of exactly those things. After all, this is an organisation whose young driver award helped launch the careers of David Coulthard, Jenson Button, Anthony Davidson, Paul di Resta and a host of other young F1 hopefuls.
We feel the BRDC is offering us something valuable that we personally can buy into – and which means more to us than fancy grandstands and hospitality suites, something which involves knowledge, passion, guts, history and correctly valuing things that are intangible but still hugely important.
Bernie Ecclestone reckons all this is bunk. And from his point of view it is, in the very limited sense that such intangible qualities fail to earn him a single penny. But, as must be very clear to the most sceptical of readers, fans' interests do not presently lie with Bernie Ecclestone.
We believe they lie with the non-commercial organisation charged with promoting British motorsport, and we think it's about time we gave it a bit of support in return.
Who wins with Donington?
What is Simon Gillett for? As far as we can tell, he represents the twin interests of Simon Gillett and Bernie Ecclestone. Claims to be the saviour of the race don't stand up to much scrutiny since the British Grand Prix would never have needed saving in the first place if Gillett hadn't provided Ecclestone with his long-awaited opportunity to endanger it.
Equally false is his implication that "superb new facilities", multi-million pound trackside houses for a handful of people wealthy enough to lease them, and some endlessly-delayed scheme claiming to offer four grand's worth of 'privileged access' somehow beats Silverstone into a cocked hat. It's fool's gold. It will turn to dust in our hands – even allowing that the money will ever be raised to realise his schemes.
Here's a warning: get behind Silverstone or risk not realising what was so marvellous about that old airfield in Northants until it isn't hosting top-flight open-wheel racing any longer. And then, we predict, its virtues will become astonishingly clear.
We are not claiming that Silverstone is the easiest circuit to visit – at least, not once you're through the gates, because in terms of road access it is probably one of the easiest in Britain thanks to the £56 million of Government money that went into road upgrades. The catering and the seating in particular are not anything to write home about. But the BRDC was working on that, until Gillett dived into the Formula One Management Ltd piranha pool and started splashing and kicking.
Really, it depends what your priorities are.
Why are we all fans?
Is it the action on the track, or the business deals being done in the hospitality suite? Do you want gritty, dirty, oil-under-the-fingernails motor racing or a "leisure activity"?
Are you up for sitting sore-bummed in the midst of one of the most knowledgeable, passionate and engaged motor racing crowds in the world? Or would you rather that experience went to hell in the midst of half-filled corporate hospitality suites, casual visitors boozing away their freebies in the drinks tent and people claiming to support Ferrari in the same sense that Londoners cheer on Man U and Europeans wear Brazilian football shirts?
In other words, exactly what has happened to rugby union at Twickenham and tennis at Wimbledon. Ask dedicated fans of those sports just how easy it is to visit those venues, or how satisfying the experience is should you actually be permitted to put a grubby plebian foot across their sacred portals.
In this battle for the future of the race Ecclestone and Gillett represent big-business interests and corporate values, which we are exhorted to support in the hopes that a few crumbs might be brushed off the table in our general direction, in the form of a slightly comfier seat and a few scraps of roquette and Camembert in our burgers.
No thanks.
Whereas the BRDC exists to represent your interests as British motorsports fans. Something to bear in mind if you feel tempted to call for us all to get wholeheartedly behind the commercially-based Donington bid.
We called this post a manifesto, largely because we hoped that would get you reading, but now it's time to live up to that promise and say what we'd like to see.
Not that we're daft enough to think that a word of this would be listened to, or even noticed, such is the disregard for the views of the paying public in the current climate, utterly excluded as we are from Ecclestone's financial model.
But here goes regardless:
We want to see:
A commitment from the Formula One promoter that, if Donington Park is not ready for 2010, the race will return to Silverstone for that year.
A similar commitment that, if the Donington scheme collapsed completely, the race will return to Silverstone for the 17 years of Gillett's contract.
A straight answer from the authorities over whether or not the race does have 'protected status,' and what that actually means, in terms of either the FIA's regulatory role or the Concorde Agreement.
A financial model that strikes a more realistic balance between the needs of Formula One to make money and service its debts, and the needs of European venues to provide up-to-date facilities in ways that banks are actually prepared to finance – something that Donington Park and Silverstone would benefit from equally.
An acknowledgement that, given the historic importance of Silverstone to Formula One and the commitment shown by the BRDC to racing generally, including supporting the interests of so many up-and-coming drivers, the British GP could at the very least be co-hosted between Silverstone and Donington Park in alternate years.
Impossible under the current management, we know. But acknowledgement of that fact shouldn't stop us saying that we are quite capable of understanding in what ways our interests as fans are being marginalised and disadvantaged in all this, and also of saying: "Not in my name."