Weekends don't get much better than the one Jenson Button had at the Hungarian Grand Prix. It began with celebrations to mark his 200th race, ended with more celebrations to mark his victory – and somewhere in the middle there was even a rainbow over the McLaren Brand Centre.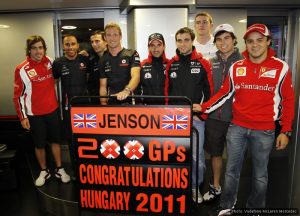 At the start of the weekend a party hosted by McLaren to mark Button's landmark race attracted the sort of friendly camaraderie usually only offered to racers at the end of their career, liked by all but feared by no-one.
Button's former team bosses Ross Brawn and Sir Frank Williams chatted with his current employer Martin Whitmarsh while, among the drivers attracted by the cake and the bubbly, bitter rivals Lewis Hamilton and Fernando Alonso could be seen arm-in-arm.
Come Sunday, Button demonstrated he was good for a few years yet at the top by showing them all a clean pair of heels in a race where his victory owed as much to his supreme skills in changeable conditions as it did to his team's strategy calls.
He said: "I want to say a big, big thank you to the team today. The car worked a treat in all conditions, and we made all the right strategy calls. We deserved this win and it felt great to stand alongside my race engineer Dave [Robson] on the occasion of his first appearance on the podium.
"The race was a brilliantly eventful one. I had a good battle with Lewis when we were running one-two. We were both driving on the limit and the gap ebbed and flowed, depending on the traffic. It was good fun and I was sorry that we weren't standing up there on the podium together at the end of it all.
"This was the perfect way to celebrate my 200th Grand Prix, and the team can enter the summer break with a spring in its step. We know we have a good car, so let's enjoy our holidays and come back even stronger at Spa-Francorchamps. I'm excited about that race already."
Whitmarsh added: "What a way for Jenson to celebrate his 200th Grand Prix! Just brilliant! Fantastic! Those were very, very difficult conditions this afternoon, and it was easy to get it wrong, but Jenson drove a great race. His measured yet combative drive was a testament to how naturally smooth and smart he is on the racetrack, and he really deserved this win."
As for his rivals, well, at least some of them got cake.
Photo gallery