In the third of his reports from the Hungaroring, Brits on Pole reporter-at-large Scott McCarthy caught up with GP3 front-runner Alexander Sims, who went into the Hungarian Grand Prix weekend as championship leader.
The Status GP driver is backed by the ambitious Gravity management team and could potentially be carried by them through GP2 and into Formula One – but only if he keeps producing the results.
He talked to Scott about his season to date, how it's better to win from the front than to get there by overtaking, and whether even winning the championship will be enough on its own.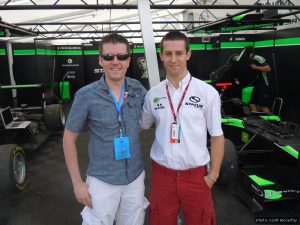 It's the unglamorous bit of any Grand Prix weekend in Europe, far away from the glitz and riches of the F1 paddock, and many race fans barely even register its presence.
But GP3 – the support series to the support series to F1 – can stake a claim to staging the weekend's most competitive racing as ambitious young drivers in equal machinery try desperately to keep their dreams of a career in motorsport alive.
For its 30-strong field, taking home some GP3 silverware isn't an end in itself – it's really only seen as a stepping stone onto bigger and better things.
And to Alexander Sims, a race-winner in Turkey and currently deep into a potentially championship-winning season with Status Grand Prix, that means fulfilling the promise that earned him the McLaren Autosport BRDC Award as Britain's best young racing driver.
Last year in Abu Dhabi he tested a GP2 car, and he sees this as the next logical rung on the ladder: "Gravity are waiting to see how this year goes. I would expect the situation to be that if I win GP3 this year, then there's a definite possibility of GP2."
Back to present-day reality, and it was not that bad a reality for Sims when the weekend began as he led the championship by six points. How would he sum up the year so far, and how important was it to him to be leading?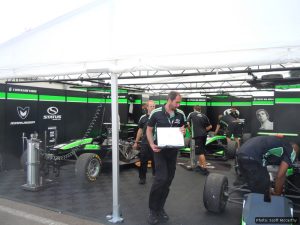 He said: "It's a bit of a bizarre situation, as I wouldn't actually say it's gone that well. We may be leading but I think we should have a lot more points.
"I think other people have made mistakes as well but, for us, it's our qualifying pace that has let us down. I haven't really got the best out of the car in any of our qualifying sessions."
Nor did the pattern change in Hungary, as Sims could only manage 11th on the grid for the first race. Worse was to follow – he raced his way to fourth at the flag, but damage had left his car's floor a fraction of a millimetre too low to pass scrutineering and he was disqualified.
Forced to start 30th and last in the second race, he recovered to 10th but still lost his championship lead to former team-mate Valtteri Bottas.
It wasn't the first time this year he had driven through the field in a wet race – in arguably his most impressive drive of the season he stormed back from almost last at Silverstone to finish second. Unstoppable in the wet conditions, he was closing by six seconds a lap on the leader by the end.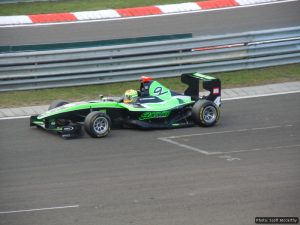 Presumably, it was a race he badly would have liked to have been just one lap longer? "Yes, especially when you see how quickly I was catching the leader on the last lap. But second was still pretty decent from where we started. Everything just seemed to click on that weekend. We were far faster than everyone. The car was strong, I felt confident and it just clicked."
Surely, these qualifying performances could be turned to his advantage as starting further down the grid allows him to showcase his considerable overtaking skills? Sims did not agree.
"While it might look good on TV, Formula 1 bosses are really wanting you to qualify from pole, lead from the front and win by a couple of seconds."
If that sounded as if he was being hard on himself, it did demonstrate a focus on improving his performance – especially as he believes simply winning the championship is not enough to impress if it comes from being the most consistent driver rather than having the most wins.
He said: "I think in GP3 it's more beneficial to win two or three Saturday races because you've qualified well, and then have a few DNFs and not win the championship, than it is to have points-scoring finishes every time. I think people like to see a bit of dominance."
F1 fans who remember the Schumacher/Ferrari years might not agree on that one, but it's clear Sims wants to make a step up from his solid but unspectacular fourth-place championship finish in last year's F3 Euro Series. Talking to Brits on Pole over the winter he judged 2010 to have been no more than OK, saying: "There were some high points, but not as many as I'd hoped for coming into the year."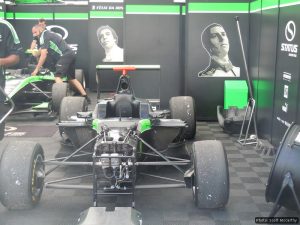 In Hungary he was quick to say that did, however, only refer to the racing – and not to his test in a McLaren Mercedes F1 car, his reward for winning the McLaren Autosport BRDC Young Driver Award. He enjoyed this test immensely, and uses it as his motivation in his racing.
He said: "It was an awesome experience. I'm really really thankful to McLaren for giving me that test. You get a taste of what you're working towards and you realise that it really is that good. It's worth all the hard work."
Sadly for Sims, who spoke over the winter of how the McLaren crew might become friends as well as racing contacts, his relationship with Gravity Sports Management looks likely to create a barrier with the team: "I tried to keep in contact, but since Éric Boullier, the team boss of Renault F1, is the top guy in Gravity I think McLaren see that as a conflict of interests. So if they help me, they're feeling that they're just helping me to go somewhere else."
So clearly the F1 dream is still quite a way off – but GP2 still beckons for next season, which for the first time will include the Asian races as part of one big championship.
That is where the real hard work will begin to see if Sims can get himself noticed. For now, here in Hungary, not even fighting for the lead of the GP3 championship is enough to satisfy his appetite.
Photo gallery