A month ago we heard how the Honda F1 team had until the new year to find a buyer if it was to stand any chance of lining up on the grid in Melbourne in March.
Well, January has arrived. So, how do its prospects, and those of its driver Jenson Button, look?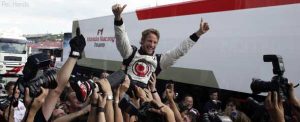 The fact is that, come the start of 2009, we still don't seem to have too much in the way of firm information. True, there have been plenty of rumours, but almost all of them have been firmly denied.
First in the frame was PSA, the company that manufactures Peugeot- and Citroen-branded cars, a rival to Renault for road car sales, and competing with some success in sports cars including the 24 Hours of Le Mans and its various spin-off series.
It sounded plausible – a proven motorsports manufacturer, with Button and Frenchman Sebastien Bourdais as drivers and Ross Brawn working his magic behind the scenes. It was easy to imagine them challenging for – at least – race wins.
But then PSA denied the rumours, saying that they were "totally false" and pointing out that they were as much afflicted by the global financial downturn as any other car manufacturer.
The successful F3 team Carlin Motorsport, which has previously applied for F1 entry and run A1GP teams for Portugal and Lebanon, as well as being behind such hot properties as Jaime Alguersuari, Brendon Hartley and Oliver Turvey, was also briefly rumoured to be interested – but team boss Trevor Carlin has rejected suggestions that he has been in touch with Honda.
David Richards, boss of Prodrive and thought from the outset to be a obvious candidate thanks to his previous associations with the team, has more time on his hands since Subaru decided to pull out of the World Rally Championship.
While he's not denying interest, the line he's sticking to is "no rush" – he says he wants to make sure he has all the information he needs to make a decision. But, with the backing of Kuwait's Investment Dar Company and having travelled to Japan just before Christmas to speak to Honda in person, Richards has emerged as by far the strongest bet.
He's even moved to play down the idea that differences remain between him and Button following his tenure as the BAR Honda team boss, saying: "Jenson is an outstanding Grand Prix driver, the kind you would want to build a team around."
For a while it appeared there was another interested party with serious intent to snap the team up – the world's second-richest man, no less. Carlos Slim Helú, a Mexican reportedly worth around $60 billion, already runs the Telmex motorsport team, which competes in NASCAR, the American Le Mans Series and Grand-Am, among others.
He also sponsors Bruno Senna, the driver who has recently been angling for a Honda race seat, through his company's subsidiary Embratel.
Rumours reached boiling point after The Sun reported that the Brackley car park had to be cleared for a visit by Slim's helicopter – but then they went stone cold again when both the billionaire and Ross Brawn issued firm denials that any deal was in the works.
Force India boss Vijay Mallya has been mentioned in connection with the team – but to acquire its outstanding equipment and facilities for his Force India outfit, currently based at Silverstone, rather than because he wants to run it as a competitive concern.
Finally iSport boss Paul Jackson, whose team currently competes as a GP2 frontrunner, has expressed an interest in entering F1 – but he made it very clear in a BBC interview that it would only happen as a result of costs coming down in the future rather than in the current circumstances as a Honda purchaser.
So it seems that Richards and Prodrive may be the outfit's most realistic hope – perhaps its only hope. But Richards has made it clear that his decision will be based on whether or not he thinks the team is a seriously viable future prospect.
Talking about his recent visit to Japan, he said: "There are a group of people in the Middle East who want to support a Formula 1 entry for me and have been very specific about it for a year now.
"But we have to agree when the timing is right. When you sit down in the cold light of day and realise the liability you would be taking on, and the huge restructuring of staff and resources that will be needed, investors will have to think long and hard before taking a punt.
"You will have to bridge a big gap in finance, probably for three years, before balancing the accounts. Sentiment and perception about the relevance of motor sport has changed in six weeks with the dramatic economic downturn."
He said he had not ruled out returning to Formula One, a prospect he was very interested in.
"But the big question remains: is it too big a challenge at this moment in time? That's what I need to determine."
And this provides perhaps the very best answer to the fans of Honda and of Jenson Button who are desperate to see the team stay into business into 2009.
If it can be run in a financially viable way and achieve consistent results then the chances are that David Richards will be the man running it.
If not, it may arguably be better that it shuts down now rather than dragging on into the kind of lingering demise that nearly finished off Jordan/Midland/Spyker before Vijay Mallya's intervention.
At the beginning of the week Ross Brawn confirmed that talks are in progress and said there had been "a huge amount of interest."
He explained that the team could stay in business through to the season opener in Melbourne at the end of March: "It's now got to the stage where we need to filter out the serious from the not so serious.
"We're all hopeful that something will happen and we're anxious to turn up the wick again in the new year.
"We haven't really lost anything yet as it has still only been a few weeks. Everything is in place although we have had to turn down various programmes.
"We have enough funding to get us through to Melbourne and we still have a competitive package."
But the question upon which the fate of the team, its drivers and a lot of jobs rests is not the competitiveness of Brawn's cars, but the economic viability of the whole operation and Formula One's willingness to adapt to the new world economy.
Honda fans will be hoping that the lack of public suitors for the team is because negotiations are being conducted quietly and professionally behind the scenes – and not because all the serious players bar Richards have decided this is an opportunity they can afford to sit out.
* In related news, F1 supremo Bernie Ecclestone has indicated that he would like to see Button placed with a top team or even sitting out 2009 altogether rather than racing at the back of the grid for another year.
He told the Daily Telegraph he thought that the driver would be better off sitting out 2009 then throwing in his lot with another backmarker squad.
He said: "It's a pity because he's committed to Honda for three years. He should be in any of the top teams. I'd rather see him wait to get a seat in one of those than race in an uncompetitive car."