Lewis Hamilton fought back from a strategic blunder by his team to win a processional German Grand Prix that was transformed into a thrilling contest by a long safety car period.
The Briton lost the lead when his pit stops were pushed out of sequence with the rest of the field, but fought back to take victory in style.
"I would have much preferred a comfortable afternoon out in front, but it didn't work out that way," he told the post-race press conference. "I guess it was exciting for you guys; it was exciting for me too."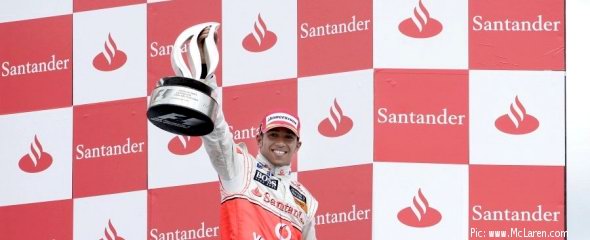 Hamilton had qualified on pole and scampered away into the distance from the start, quickly building a big lead over Ferrari's Felipe Massa and the rest of the field.
That lasted as far as lap 37 when Timo Glock's suspension broke as he took the final corner before entering the start-finish straight. He ran wide, hauled himself back onto the track with one wheel facing the wrong direction, and slammed hard backwards into the pit wall. The Toyota slid back across the track, scattering debris as it went, and out came the safety car.
When the pit lane opened two laps later, Hamilton was one of the few cars not to grab the opportunity to take on fuel and tyres. "I said 'Are you sure about this?' and they said it would be fine," recalled Hamilton later.
McLaren strategists wanted to keep him out for as long as possible to minimise the time he spent on the less advantageous soft tyres later in the race, believing he'd be able to build enough of lead after the restart to fit in a later pitstop without sacrificing first place.
They were wrong.
On the restart Hamilton did indeed pull away from everyone else again, with main rival Felipe Massa stuck behind two other cars that hadn't pitted – Nick Heidfeld, running long to recover from a poor qualifying performance, and the surprising Nelson Piquet, who had been having his usual dismal weekend until his one pitstop of the race came at the perfect time to put him in line for a podium.
But, although Hamilton was building his lead with each passing lap, the long safety car period had crippled McLaren's cunning plan and the Brit was forced to pit long before he had built up enough of a lead to return to the race in front.
When Heidfeld made his last pitstop on lap 54 Hamilton was third behind Massa and Piquet, and the stage was set for a charge to the line between a racy McLaren with a lot of ground to make up, a Ferrari that hadn't been properly on form all weekend, and a Renault so far ahead of its normal position that its driver probably had a nosebleed.
Hamilton pounced on Massa when the Brazilian offered too big a gap while defending at the hairpin – the McLaren driver eased past and then successfully defended a game, but optimistic, attempt at a retake by his Ferrari rival.
On lap 60 he pulled the same move at the same corner on his old GP2 rival Piquet to regain the lead and atone for his team's strategic error – and after that he was unchallenged for the win over the final few laps.
He said afterwards: "I knew that I only had a few laps to get past [Massa] before the tyres began to grain and the car would slide around, so I had to push and get as close to him as possible. But the great thing about this track is that you can follow other cars — or so I found.
"I was able to get quite close through the last two corners, follow him all the way down to turn two and slipstream him, but towards the end of the straight he sort of matched my speed, so it was a bit difficult to get past.
"So I just had to do it on the brakes. He gave me plenty of room. I think it was quite a fair battle; it was good fun.
"I thought my work was done and then the team said I still had to get past Nelson. I was thinking 'OK, I've just worked my backside off, but that's fine.' It was a good battle and he was very fair."
Behind Hamilton, Piquet had an unexpectedly untroubled run home for second as Massa proved unable to make up ground on him – in fact, he lost so much momentum in his failed atempt to re-take Hamilton that he almost lost third to Heidfeld.
Further back, Kimi Raikkonen had shaken off the lassitude that had taken the edge off his performance all weekend and mounted a late-race charge that took him from outside the points up to sixth, but he was unable to catch Heikki Kovalainen and further minimise the damage to his world championship hopes.
Robert Kubica took seventh, having been unable to hold onto the places gained in a stunning start, and Toro Rosso's Sebastian Vettel finished eighth for the final point.
Among the disappointed drivers were Jarno Trulli, who qualified fourth but ended up ninth after failing to hold off Vettel, and Fernando Alonso, who ended up 11th despite – or possibly because of – an afternoon filled with aggressive driving and attempted overtakes.
David Coulthard dropped from 10th to 15th at the start and, when he started to fight his way back, found himself stuck behind Jenson Button for several laps as the pair duelled for position. Neither went onto have a particularly inspiring race – Coulthard clashed with Barrichello, forcing both to pit for new front wings and ending the Brazilian's race, and finished 13th. Button ended up the final finisher in 17th.
Coulthard said: "It was a poor start. Heidfeld ran wide in turn one, which pushed me wide and off the circuit, so a lot of people passed me there.
"I was stuck behind Jenson for 13 laps or so, he always seemed to have better traction so it was difficult to have a big dive at the end of braking. I got past him, as well as Rosberg before that.
"Towards the end of the race, Rubens got better traction off a turn and moved over, I came back onto my line to take the corner. I guess he thought I wasn't going to do that, which is why he had his car there, but it didn't work out."
Button's fall to the back of the field was because of trouble with the prime tyres, according to Honda. "We lost all performance – we didn't expect that," said Ross Brawn. The driver himself called it "a frustrating race".
He said: "It is obviously disappointing to finish in 17th position. We pitted early for my first stop to prevent Rosberg overtaking and I lost a lot of time there to both him and Rubens because we had no performance on the prime tyre after my stop. The traction was really poor and I was losing so much time out of the corners.
"When the safety car came out, we immediately pitted for tyres to enable us to switch back to the option tyre as soon as possible and unfortunately that meant that although I was a lap down, I was not able to overtake the leader.
"I'm very disappointed, particularly after a stronger qualifying performance than in recent races, but we'll learn from our mistakes today."