The good news: it's possible that Justin Wilson has secured an IRL drive for next season with Dale Coyne Racing, where he is likely to pair with existing driver Bruno Junqueira.
The bad news: after his success in the defunct Champ Car series, and his drive in IndyCar last season with top-drawer Newman/Haas/Lanigan, this would represent a significant step down for the Sheffield-born racer to a team that is eerily similar to F1's Minardi.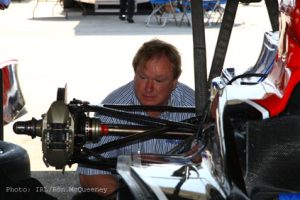 And there's more. It's being reported in the US that Junqueira, who has driven for the team for the past two years, has been unsalaried for all that time.
But at least Wilson would be in the game, eh?
Team owner Coyne is said to be close to closing a deal with Wilson for the 2009 season and the driver is scheduled to appear for the team at Homestead, Florida, for IRL's opening test.
Wilson said: "I haven't signed a contract yet and we're still working on some things but it's looking good. Dale seems very intent on being competitive so I intend to make the most of it."
Wilson is one of racing's eternal bridesmaids. Just when he looked to be heading for a breakthrough in Champ Car, the series merged with its higher-profile rival.
Just when his team looked to be on the way to mastering the technical requirements of the new series, and securing a place at the top table, the recession hit.
Deprived of sponsors, Newman/Haas/Lanigan is for the first time in its 20-plus-year history looking at pay drivers and those who can command significant personal sponsorship – such as Robert Dornboos and Milka Duno. It simply cannot afford to run a car for Wilson despite rating him highly as a driver.
Dale Coyne Racing is one of those plucky, popular backmarkers that scrambles every year to find the money to race – and somehow always manages to make it onto the grid. It was the team of Katherine Legge before her successful switch to DTM.
Wilson, who is very popular in the US for his engaging personality and unusual height, is sure to enjoy plenty of support and seems determined to make the best of his chance.