It's usually Red Bull Racing that takes the prize for most outrageously impractical commercial tie-in during the Monaco Grand Prix – but this year McLaren will outshine them, literally, thanks to Lewis Hamilton's and Heikki Kovalainen's diamond-studded helmets.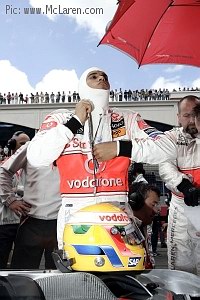 Lewis Hamilton (plus non-shiny helmet) during the Turkish Grand Prix weekend. Photo: Vodafone McLaren Mercedes.
Gem firm Steinmetz are no strangers to the action at Monte Carlo, having produced a variety of tastelessly glitzy trophies and helmet designs over the last few years – most notably in 2004, when they they embedded $250,000 stones in the nose of the two Jaguar Racing cars. Christian Klein crashed on lap one, and his diamond was never seen again.
This year the company's investment should be somewhat less vulnerable, as it takes the form of driver signatures and the Steinmetz logo picked out in diamonds on the drivers' helmets for the entire weekend.
Hamilton, under fire during the last race weekend in Turkey for taking part in an embarrassing sponsor's gimmick that involved 'flying' on a wire at a stage show, sounded more positive about this commercial tie-in.
He said: "I really like what Steinmetz has done this year and am looking forward to the Monaco Grand Prix weekend. As some people might know I am very particular about my helmet but it looks great and will add some extra sparkle to the event."
The company did something similar in 2005 to mark the start of its three-year tie-up with McLaren, providing the team's then-drivers Kimi Raikkonen and Juan-Pablo Montoya with helmets bearing the words 'iceman' and 'Montoya' in more than 200 diamonds.
This year's promotion highlights the Steinmetz 'Forevermark' range of diamonds, which feature higher-than-normal standards of craftsmanship, limited availability and a tiny certification mark on one face. Parent company De Beers says the mark is also a guarantee that each stone has been ethically sourced and that the production process has included proper investment in the community where it was mined.
Hamilton was presented with his helmet at the McLaren Technology Centre earlier this week while Kovalainen will receive his on Wednesday in Monaco.
Red Bull, the successor team to Jaguar, have often provided some light relief at Monaco with movie-related sponsorship deals, most notably dressing their pit crews as Imperial Stormtroopers and sending David Coulthard onto the podium in a Superman cape.