You'd never have guessed it – but the front row of the British Grand Prix grid will be composed of McLaren's Heikki Kovalainen, in pole position, and Red Bull's Mark Webber.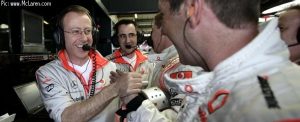 Kimi Raikkonen and Lewis Hamilton, in that order, will be consigned to the second row while the star of Felipe Massa abruptly halted its ascendancy when he could do no better than ninth.
The Ferraris looked out of shape for the entire session, with Raikkonen's car in particular demonstrating notable oversteer.
And Hamilton handed more material to his critics after making a tactical error when the gusty conditions combined with over-commitment to a corner left him on the grass.
Rather than ducking into the pits he then drove on, costing himself a lap's worth of fuel for little result and compromising his entire session.
Lower down the field, BMW's Nick Heidfeld and Renault's Fernando Alonso start fifth and sixth while Alonso's team-mate Nelson A Piquet and Toro Rosso's Sebastian Vettel make up the fourth row.
Completing the top 10 are a potentially dangerous, out-of-position Massa and BMW's Robert Kubica who was unable to set a time in the final session.
David Coulthard for Red Bull scraped into Q2 but then, following a rain shower, was unable to get a decent lap in and missed out on the final session by a fractional amount – just 6/100 of a second.
He starts 11th, with the added bonus of being the first driver able to enjoy flexibility over his fuel strategy.
Honda continued their backward slide with Jenson Button and Rubens Barrichello both failing to make it out of Q1. They start 16th and 17th, ahead of two Force Indias and Williams' Nico Rosberg.
Button, interviewed afterwards, was philosophical, suggesting that he wasn't disappointed because he hadn't expected the car to perform any better.
In the post-session press conference Kovalainen, visibly affected by his success, said: "It's not going to be easy tomorrow, but my pace has been good all week, and I am confident our strategy will be a strong one as well. The target is to win the Grand Prix.
"It was quite difficult conditions. At the start of the final session, the wind picked up and I was all over the place. But it went much better on the second run."
Webber greeted the news laconically: "Bit of a surprise, actually." And Raikkonen was, predictably, unbothered and confident that he could make progress in the race.
Interviewed after the session, an uncharacteristically uncommunicative Lewis Hamilton said his problems were down to oversteer: "The lap was going quite well and I got into underbraking, the back end slippped out.
"The last lap we did felt quite good but I think I did too hard an out lap and used up too much of my tyres. I'm up there, which is good."
"Fuel load and everything, that's all cool, and the car felt good."
For the official qualifying timesheet, visit Formula1.com here.
Grid position:
Heikki Kovalainen, McLaren
Mark Webber, Red Bull
Kimi Räikkönen, Ferrari
Lewis Hamilton, McLaren
Nick Heidfeld, BMW Sauber
Fernando Alonso, Renault
Nelson A Piquet, Renault
Sebastian Vettel, Toro Rosso
Felipe Massa, Ferrari
Robert Kubica, BMW Sauber
David Coulthard, Red Bull
Sebastien Bourdais, Toro Rosso
Jarno Trulli, Toyota
Kazuki Nakajima, Williams
Rubens Barrichello, Honda
Jenson Button, Honda
Nico Rosberg, Williams
Adrian Sutil, Force India
Giancarlo Fisichella, Force India