Lewis Hamilton returned to winning ways with a dominating victory at the Hungarian Grand Prix, while Kimi Raikkonen and Mark Webber survived post-race stewards' investigations to secure second and third.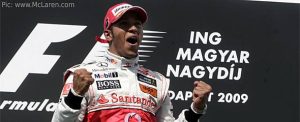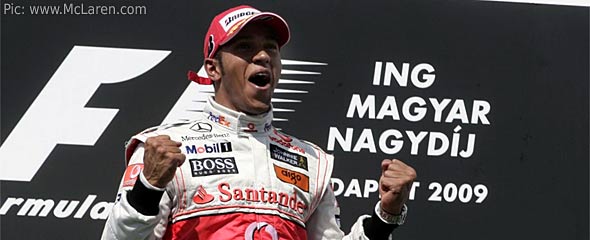 Hamilton's victory was the first-ever by a car using the problematic KERS powerboost system, while Webber's podium moved him to second in the championship and cut the gap to leader Jenson Button, who finished seventh.
Polesitter Fernando Alonso retired from the race after a poorly-reattached wheel came off following a pitstop and bounced along the track. Although he made it back to the pits, an unrelated fuel problem forced his retirement.
Coming as it did a week after Formula 2 driver Henry Surtees was killed by a flying wheel, race stewards took a dim view of the incident and reacted by banning Renault from taking part in the next race, the European Grand Prix which will be held in front of Alonso's home fans in Valencia.
Alonso's race up to that point had been positive, scampering away at the start while, as expected, the KERS-boosted cars of Hamilton and Raikkonen leapt forward to mix with the Red Bulls of Webber and Vettel.
The rivals briefly ran four-wide as they battled for second place on a circuit notorious for its lack of overtaking, until Raikkonen banged wheels with Vettel sending the German back into the chasing pack and eventual retirement.
Hamilton briefly seized second but could not hold it from Webber – but, on lap five, he made what would ultimately turn out to be a pass for the victory.
"It's an incredible feeling to be back here after what feels such a long time away and after such a struggle for me and my team," he said. "I am just so proud of the guys, as I go into the factory and I see how hard everyone is pushing. Everyone wants to win just as much as I do and they never gave up.
"We didn't expect to win this weekend. Undoubtedly we have caught up quite a bit but we never felt we had the pace to win. But the car felt fantastic and it is incredibly special to get back up here, not only on the podium, but to get a win. It is amazing.
"We have got some improvements to make and some work to do to be able to beat these guys on a more regular basis. But this is one huge leap for us and hopefully we are now on the right track, so let's keep going."
While Hamilton's victory seemed untroubled, behind him there was more incident than normal for the often dull Hungaroring. Raikkonen's clash with Vettel saw the Finn investigated after the race without punishment, while Vettel's retirement was preceded by a heartfelt cry to his garage of "Something is broken! Something is broken! I can't control the car any more!".
Webber was overtaken by Raikkonen in the pits when he suffered a slight problem with his stop and was released straight into the path of the Ferrari. The two drivers gave each other enough space to avoid a collision and Raikkonen emerged in second. A post-race investigation led to a reprimand for Red Bull, but no punishment that affected the result.
Neither Brawn car was able to make much impression on the race, Rubens Barrichello hauling himself up to 10th by leaving his second pitstop as late as possible while Jenson Button gained one place from his qualifying position to finish seventh.
He said his car hadn't simply been out-developed by his rivals – it was now objectively worse than it had been earlier in the season. At one point in the race he radioed back to his pit: "How – HOW – can this car be so bad at the moment?"
He said afterwards: "We felt positive that we could get a good result today but unfortunately it turned into damage limitation for our championship challenge. I was heavily-fuelled after qualifying and our plan was to get a good start, stay with the cars in front and then I was going longer at the first stop. My rear tyres grained massively in the first few laps, though, which took away any chance that I had of keeping pace with the front-runners.
"We don't know what the problem is right now, as our pace on the 'Option' tyre on Friday was pretty good and we were able to manage the rear end much better than some of the others. The car just doesn't feel like it did a few races ago, but we'll work hard to identify the problems before Valencia. It's disappointing as we had high hopes for this race, but we were fortunate to come away with two points."
More successful was Toyota, both Timo Glock and Jarno Trulli scoring points after pitting late in the race to minimise their time on the less-advantageous harder tyres. Nico Rosberg also drove strongly for Williams, finishing fourth ahead of McLaren's Heikki Kovalainen, but his team-mate Kazuki Nakajima once more missed out on scoring points.
Alonso believed the problems he encountered cost him a possible podium: "I made a good start and the car was quick during my first stint, but then we had a problem at my first stop fitting the right front wheel to the car. When I left the pits there was a lot of vibration and it felt like I had a puncture, but then a few corners later the wheel flew off my car.
"I made it back to the pits to replace it, but then the problem I'd had with my fuel pump since lap two returned and started to get worse so we had to retire the car. It's a shame that we missed this chance, but these things happen in racing."
The prospects for his under-fire team-mate Nelson Piquet Jr look poor as team boss Flavio Briatore appeared to leave the circuit while he was still racing. He eventually finished 12th.
Toro Rosso's new boy Jaime Alguersuari kept his nose clean, lapping in last place until his team-mate Sebastien Buemi span and gave the young Spaniard a chance to get past.
* Ferrari's Felipe Massa, who was badly injured during qualifying when he was hit on the head by flying debris, is recovering in hospital after surgery. The Brazilian suffered concussion and a twice-fractured skull in the incident but, although his injuries were described as "life threatening", he appears to have responded well to treatment and is under sedation while he recovers.
His team-mate Raikkonen said: "As long as we race with open cockpits our heads are always the worst place and the first place that's going to be hit if there's something flying around. What happened was really unfortunate but luckily enough he's more or less OK. He's probably going to be a hundred per cent fine in a little time. We in the team all hope that he's going to be fine and come back soon."
Race results
Lewis Hamilton, McLaren
Kimi Raikkonen, Ferrari
Mark Webber, Red Bull
Nico Rosberg, Williams
Heikki Kovalainen, McLaren
Timo Glock, Toyota
Jenson Button, Brawn
Jarno Trulli, Toyota
Kazuki Nakajima, Williams
Rubens Barrichello, Brawn
Nick Heidfeld, BMW
Nelson Piquet Jnr, Renault
Robert Kubica, BMW
Giancarlo Fisichella, Force India
Jaime Alguersuari, Toro Rosso
Sebastien Buemi, Toro Rosso
Not classified
Sebastian Vettel, Red Bull, 29 laps
Fernando Alonso, Renault, 15 laps
Adrian Sutil, Force India, 1 lap
Drivers' championship standings
Jenson Button, 70
Mark Webber, 51.5
Sebastian Vettel, 47
Rubens Barrichello, 44
Nico Rosberg, 25.5
Jarno Trulli, 22.5
Felipe Massa, 22
Lewis Hamilton, 19
Kimi Raikkonen, 18
Timo Glock, 16
Fernando Alonso, 13
Heikki Kovalainen, 9
Nick Heidfeld, 6
Sebastien Buemi, 3
Sebastien Bourdais, 2
Robert Kubica, 2
Giancarlo Fisichella, 0
Adrian Sutil, 0
Nelson Piquet Jnr, 0
Kazuki Nakajima, 0
Jaime Alguersuari, 0
Constructors' championship standings
Brawn, 114
Red Bull, 98.5
Ferrari, 40
Toyota, 38.5
McLaren, 28
Williams, 25.5
Renault, 13
BMW, 8
Toro Rosso, 5
Force India, 0