Ferrari and McLaren spent today's practice sessions duelling for position, with the Italian team topping the morning timesheets and the British one posting faster times still in the afternoon.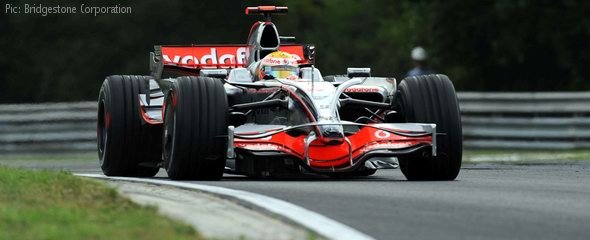 In the first session Ferrari's Felipe Massa was the only driver to break the 1 minute 21 barrier, recording a fastest lap of 1:20.981. His colleague Kimi Raikkonen was more than three-tenths of a second behind him on 1:21.345.
In third and fourth place were McLaren's Heikki Kovalainen and Lewis Hamilton respectively, recording times of 1:21.410 and 1:21.535.
Renault's Fernando Alonso, Toyota's Timo Glock and BMW's Robert Kubica followed them, with Kubica the first driver to fail to break 1 minute 22.
Red Bull's David Coulthard came 12th overall, posting a time just over a tenth of a second slower than team-mate Mark Webber, in 11th place.
Honda's Jenson Button managed to outperform his team-mate Rubens Barrichello by almost two tenths of a second to come 14th.
Toro Rosso's Sebastian Vettel had a frustrating day thanks to hydraulics problems and was unable to get any decent running in either session, condemning himself to the bottom of the timesheets.
In the afternoon session Lewis Hamilton exerted himself to produce the day's overall fastest time of 1:20.554, some four-tenths of a second faster than Massa had been in the morning.
A surprise second was Renault's Nelson A Piquet on 1:20.748 while Hamilton's colleague Kovalainen came within 12/100ths of a second of his time for third place.
Piquet's team-mate Fernando Alonso was fourth, with Kimi Raikkonen's the first car to miss a 1 minute 20 time in fifth and Massa a mere hundredth of a second behind him in sixth.
Coulthard stayed in formation with Webber and both improved their times by almost a second – but the pair still slipped back a place each compared with the earlier session, setting the 12th and 13th fastest times.
Jenson Button also slipped despite finding some extra speed – his 16th place 1:22.150 did at least beat the Force Indias, both of which overtook his team-mate Rubens Barrichello.
Session two times:
Lewis Hamilton, McLaren: 1:20.554 (35 laps)
Nelson A Piquet, Renault: 1:20.748 (38 laps)
Heikki Kovalainen, McLaren: 1:20.760 (33 laps)
Fernando Alonso, Renault: 1:20.928 (35 laps)
Kimi Raikkonen, Ferrari: 1:21.009 (35 laps)
Felipe Massa, Ferrari: 1:21.010 (36 laps)
Nick Heidfeld, BMW Sauber: 1:21.138 (46 laps)
Robert Kubica, BMW Sauber: 1:21.363 (36 laps
Jarno Trulli, Toyota: 1:21.505 (42 laps)
Nico Rosberg, Williams: 1:21.581 (34 laps)
Timo Glock, Toyota: 1:21.662 (39 laps)
Mark Webber, Red Bull: 1:21.733 (43 laps)
David Coulthard, Red Bull: 1:21.837 (34 laps)
Kazuki Nakajima, Williams: 1:21.902 (33 laps)
Sebastien Bourdais, Toro Rosso: 1:21.955 (41 laps)
Jenson Button, Honda: 1:22.150 (41 laps)
Giancarlo Fisichella, Force India: 1:22.197 (36 laps)
Adrian Sutil, Force India: 1:22.358 (37 laps)
Rubens Barrichello, Honda: 1:22.448 (33 laps)
Sebastian Vettel, Toro Rosso: 1:22.945 (5 laps)
Session one times:
Felipe Massa, Ferrari: 1:20.981 (19 laps)
Kimi Raikkonen, Ferrari: 1:21.345 (21 laps)
Heikki Kovalainen, McLaren: 1:21.410 (17 laps)
Lewis Hamilton, McLaren: 1:21.535 (18 laps)
Fernando Alonso, Renault: 1:21.802 (18 laps)
Timo Glock, Toyota: 1:21.931 (22 laps)
Robert Kubica, BMW Sauber: 1:22.267 (18 laps)
Nelson A Piquet, Renault: 1:22.326 (19 laps)
Nick Heidfeld, BMW Sauber: 1:22.370 (22 laps)
Jarno Trulli, Toyota: 1:22.457 (25 laps)
Mark Webber, Red Bull: 1:22.654 (23 laps)
David Coulthard, Red Bull: 1:22.700 (16 laps)
Sebastien Bourdais, Toro Rosso: 1:22.900 (26 laps)
Jenson Button, Honda: 1:22.917 (27 laps)
Rubens Barrichello, Honda: 1:23.093 (26 laps)
Nico Rosberg, Williams: 1:23.147 (21 laps)
Kazuki Nakajima, Williams: 1:23.274 (22 laps)
Adrian Sutil, Force India: 1:23.353 (25 laps)
Giancarlo Fisichella, Force India: 1:23.459 (28 laps)
Sebastian Vettel, Toro Rosso: 1:23.923 (4 laps)