Lewis Hamilton will line up on pole for tomorrow's Chinese Grand Prix – but he'll have no room whatsoever to relax.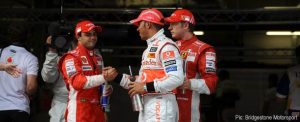 Next to him on the front row will be Ferrari's Kimi Raikkonen while fellow title contender Felipe Massa is behind him in third place, and thought to be fuelled long, meaning the start will be crucial to the McLaren driver's title hopes.
Renault's Fernando Alonso, who has pledged to do everything possible to help Massa to the title, is fourth while Hamilton's team-mate Heikki Kovalainen is stranded in fifth and unable to offer much assistance.
In a week when Hamilton has attracted widespread criticism for an aggressive driving style, it's our guess that it's going to feel pretty lonely out there. And that everything will depend on how he handles the pressure.
The bad luck that has dogged the career of Red Bull's Mark Webber struck again after he was forced to make an engine change following a blow-out in practice. He would have been on the third row after an excellent qualifying performance – but instead is demoted 10 places and will now start from 16th place.
BMW Sauber's Robert Kubica, the only other driver mathematically capable of winning the title, has dealt his hopes a blow with his worst qualifying of the season. He is reportedly very unhappy with the balance of his car.
He was unable to make it out of Q2 and will start 11th, with colleague Nick Heidfeld lining up in ninth – he gained a place following Webber's engine change but was penalised three for blocking David Coulthard in the first session.
The Toro Rosso duo have both made the top ten, with Sebastian Vettel starting sixth and Sebastien Bourdais eighth following the demotions of Webber and Heidfeld. However, the fact that they are separated by more than a second suggests that Bourdais might be on a significantly different fuel strategy from his colleague.
It was a terrible day for the other Brits with neither Red Bull's Couthard nor Honda's Jenson Button making it out of Q1. They will start 15th and 18th respectively and both qualified worse than their team-mates – at least, before Webber's engine change came into play.
Coulthard was unhappy about the behaviour of Heidfeld: "He would have known he was in the top ten already, so for me it was very unsportsmanlike behaviour, as all he did was screw up my last flying lap – there wasn't any intention of him doing a quicker time."
Chinese Grand Prix qualifying positions
Lewis Hamilton, McLaren: 1:36.303
Kimi Raikkonen, Ferrari: 1:36.645
Felipe Massa, Ferrari: 1:36.889
Fernando Alonso, Renault: 1:36.927
Heikki Kovalainen, McLaren: 1:36.930
Mark Webber, Red Bull: 1:37.083 (before 10-place engine change penalty)
Nick Heidfeld, BMW Sauber: 1:37.201 (before three-place blocking penalty)
Sebastian Vettel, Toro Rosso: 1:37.685
Jarno Trulli, Toyota: 1:37.934
Sebastien Bourdais, Toro Rosso: 1:38.885
Nelson A Piquet, Renault: 1:35.722
Robert Kubica, BMW Sauber: 1:35.814
Timo Glock, Toyota: 1:35.937
Rubens Barrichello, Honda: 1:36.079
Nico Rosberg, Williams: 1:36.210
David Coulthard, Red Bull: 1:36.731
Kazuki Nakajima, Williams: 1:36.863
Jenson Button, Honda: 1:37.053
Adrian Sutil, Force India: 1:37.730
Giancarlo Fisichella, Force India: 1:37.739