One lucky fan of Jenson Button has a very good chance of seeing his unique helmet design leading the pack at this weekend's British Grand Prix.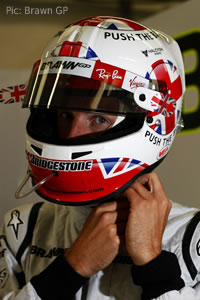 As announced earlier this year, the world championship leader is to continue his tradition of wearing a specially-designed helmet incorporating a British theme for the race following a design competition on his website.
Only at the point the competition was launched, entrants would probably have had little idea of how wildly successful his season would prove to be.
According to Brawn GP, after reviewing hundreds of entries, Jenson chose Austrian fan Bernie Zobl's Push The Button design. It says: "The design has been carefully applied to his race helmets for the weekend [good news, that] and will make its track debut during the first practice session on Friday 19 June."
Mr Zobl added: "Through an article in one of the Austrian daily newspapers, I read about the opportunity to design a helmet for Jenson.
"As an enthusiastic F1 fan, I had to grab the chance immediately! The slogan 'Push the Button' was my first brainwave and even though my family laughed about its simplicity, I've held on to it.
"And as you can see… it has been worth it! Additionally it was important to me to integrate Jenson's existing logo into my design because of its popularity and recognition value. I am very pleased about winning the competition and can't wait to see Jenson using 'my' helmet in Silverstone."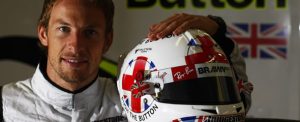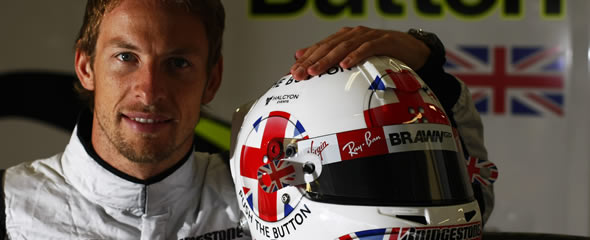 Jenson commented: "As my home race, the British Grand Prix is always really special and I love the atmosphere created at Silverstone by the British fans. For the last few years, it has become something of a tradition for me to have a special British themed helmet and this year is no exception.
"I wanted my fans to be involved so we ran a competition on my website www.jensonbutton.com and chose the winning design by Bernie.
"What I loved about Bernie's design was its unique take on the Union Jack flag and how he had incorporated it into my own Button logo. The helmet looks great and I can't wait to wear it at Silverstone this weekend."