British GP2 and IndyCar pilot Mike Conway is set to take part in all three days of the young drivers' test at Jerez in December on behalf of the Mercedes team.
Conway, who spent two years on the Honda books as part of its testing programme, could therefore be in line to perform a feat that not many manage – crossing back over the Atlantic after spending a year driving for midfield IndyCar squad Dreyer & Reinbold Racing.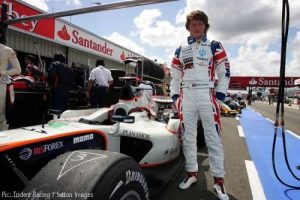 He will join Marcus Ericsson, a hotly-tipped F3 driver who is widely expected to make the progression to F1, in testing for an outfit that has been through two changes of ownership since he was last in one of its cars.
The only other British driver announced as attending the event is Paul di Resta, who will test for Mercedes-powered Force India.
Conway, who took road course experience to D&R, had some excellent qualifying performances in a somewhat patchy season. Despite numerous crashes, he managed a podium at Sonoma plus top-ten finishes at Iowa and Watkins Glen.
In 2008 he drove for Trident in the GP2 series, winning at Monaco and scoring top-five finishes in Turkey and the UK.
Last July Ross Brawn said of him: "I think Mike can make it to Formula One, he is a good driver and has been doing reasonably well this year [2008] in GP2. He has been doing a great job for us in testing and I have been very impressed with him.
"The difficulty, however, is that Formula One is such a high standard, and very few drivers make it. I hope he can get there.
"His win at Monaco impressed a lot of teams but there are only one or two drivers who make it out of GP2 for next season. You almost need to decimate the championship to become part of a Formula One team. You really have got to be quite exceptional to get there, but I wouldn't turn my back on Mike at Honda."
And it looks as if he didn't.