Fernando Alonso reminded everyone of the skills that won him two world championships with a majestic victory from 15th on the grid in Formula One's inaugural Singapore Grand Prix.
A fuel line failure in qualifying had stranded the Spaniard towards the back of the field, but an early charge on the softer tyre choice gained him some places – and when his team-mate Nelson Piquet slammed backwards into the wall on lap 15 he was left perfectly placed to earn the win.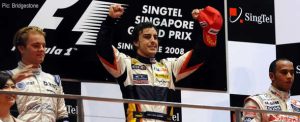 Behind him, there were slim picking for the championship contenders after the field was shaken up by Piquet's accident and the subsequent safety car.
Felipe Massa had held a comfortable lead, but fell victim to Ferrari's semi-automated pit stop system when he was released with his fuel hose still attached – straight into the path of Adrian Sutil for the second time this season.
Unlike in Valencia, where stewards imposed a post-race fine that ensured he was able to keep his victory, he was given a drive-through penalty.
Conspiracy theorists will note it made no difference to his result as he'd already dropped to last because of the time spent waiting for his mechanics to race down the pitlane to his stranded car and wrestle the hose free.
Main rival Lewis Hamilton was unable to take full advantage of Massa's woes, avoiding heroics to finish a careful third behind Alonso and Nico Rosberg, but Kimi Raikkonen and Robert Kubica fared even worse.
Raikkonen hit a wall with a handful of laps remaining while under no obvious pressure in fifth place, and Kubica was consigned to anonymity by a stop-go penalty after being forced to make a fuel stop while the pits were closed following Piquet's accident.
Rosberg received a similar penalty, but had the good fortune to be at the head of the field when the safety car came in. With clear air ahead of him and two heavy one-stopping cars behind him he built enough of a lead while the stewards deliberated that his race was not ruined by their inevitable punishment.
Both Red Bulls had dived into the pits in the moments after Piquet's crash and leaped up the standings as a result – but hopes of a podium were dashed when Mark Webber suffered a gearbox failure and David Coulthard lost vital time in his second pitstop driving off with his fuel hose attached.
A Massa-style incident was averted because Red Bull still use a crew member with a lollipop to signal when to leave, and he was able to stop Coulthard before he had gone more than a couple of feet – but the damage to his race was done and he eventually finished seventh.
Jenson Button concluded a weekend of modest improvement for Honda by finishing ninth.
Alonso admitted his victory had required some good luck – but nothing that didn't balance the bad luck of his qualifying disaster.
He said: "I am extremely happy – I cannot believe it right now, I need a couple of days to realise we won a race this year.
"Unlucky yesterday and maybe lucky today. We were competitive from Friday. I was unlucky in qualifying, we started from the back and the first safety car helped me a lot and I was able to win the race.
"We choose to do an very aggressive first stint because we knew starting 15th you cannot overtake anyone here. We thought about a one-stop strategy but had some concerns with the brakes so we thought one stop was not possible, so we tried to something different."
"It was great weekend for all of us. A brilliant weekend for F1 with the first night race. We had a new challenge in front of us and we will be part of history."
Hamilton's challenge was blunted by a period stuck behind the far slower Coulthard and by a common-sense approach to the championship that made him unwilling to risk a sustained attack on Rosberg when he already had an advantage over Ferrari.
Acknowledging that the Ferraris had been the faster cars until their race unravelled, he said: "I can't complain, seven points I am quite happy with. It is all about scoring points.
"We came here with a one-point lead and I could see Ferrari were very competitive. I knew it would be very tough to beat them and especially after the start when I could see I was behind.
"I was trying to get as close to Nico as possible and see if there was an opportunity there, but I did not need to take any risks with both Ferraris out of the points. I pushed as much as I could but when you get close to someone it is impossible to overtake. It's not great circuit to overtake."
Rosberg had thought his race was ruined when he realised he could not avoid a penalty: "When I had to come in, I saw the safety car out. I was really annoyed as I thought that was it, the end of it.
"But then I saw I was able to pull out a gap afterwards, even after the stop. We had a good chance here this weekend and everything went our way which is great for me and the team."
Coulthard said: "That was my second points finish this year, so I've got to be happy with today's result. As far as the second pit stop went, the guys have been great this year and the work that they did on Saturday morning to get my car out so I could do a run was quite remarkable, so I'm not going to point any fingers at them.
"It's just one of those things – there was a misunderstanding between some of the guys and I go when the lollipop comes up, but these things happen. Thankfully we got some points today. It was incredibly bumpy out there, you can't see the braking down into Turn Seven and it was as hot as hell."
Button said: "It was one of those races today where luck and the timing of the safety car could make or break your race. Unfortunately luck was not on our side and the timing of the two safety cars hurt our two-stop strategy.
"In addition to that, we were just not competitive or quick enough as I was struggling for balance for much of the race. To finish in ninth position is always frustrating as you are just outside of the points."
The result allowed Hamilton to put some clear air between himself and Massa in the championship, opening up an 84-77 lead, while McLaren also sneaked ahead of Ferrari in the constructors' contest by a single point. Reigning world champion Raikkonen is now only a point away from dropping to fifth.