A front-row spot for the Honda Grand Prix of St Petersburg and his team's best-ever qualifying position were not enough for IndyCar racer Justin Wilson, who felt he was robbed of pole when Dario Franchitti slowed in front of him.
"Obviously I'm very disappointed," he said after finishing five-hundredths of a second behind his former team-mate Graham Rahal. "I felt we had a chance today, a really good chance to be on pole and it's disappointing that we're not."
Wilson will line up beside last year's St Pete winner, who inherited the McDonald's-sponsored No. 02 car from the Sheffield driver when lack of funding forced their team, Newman/Haas/Lanigan, to release him.
Rahal's pole was the first in the IRL by N/H/L, who were the dominant team in Champ Car and made a reasonable transition to the merged series last year, with Rahal and Wilson each taking a victory.
By contrast Wilson's new team, Dale Coyne Racing, have traditionally filled the role of well-liked also-rans during their 23 years in the sport – although podiums scored by Bruno Junqueira in Champ Car's final season served notice that Coyne was ramping up his operation, and the off-season recruitment of engineer Bill Pappas was seen as a further sign of ambition.
A first-ever pole would have been the clearest sign yet of changing times at the team, and Wilson believes he would have had it if Franchitti had not backed him up at the end of a hot lap on superior tyres, ruining both that lap and the next.
This year the IRL has introduced a rule similar to Formula One, forcing teams to use two different types of tyre in a race weekend.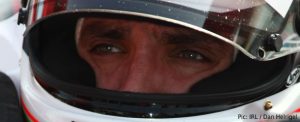 Wilson said: "We ran the red [softer] tyres against their harder ones because we had saved them from Q1 – that was a gamble we took to be in good shape for pole. But someone backed off right in front of me, right at the end of the lap, so it ruined two of my best laps.
"I came in, refuelled and managed to go a tenth quicker on the same tyres, but it's pretty hard to do any more on the second run. I felt we deserved pole and that I got robbed today, but that's how it goes.
"I'm pleased for Graham though, he's a nice guy, they're good guys and they've had a great day. Hopefully we can have a great day tomorrow."
Team owner Dale Coyne said: "We are excited and disappointed. Obviously we are ecstatic to start on the front row, but we legitimately had pole position within our reach today."
Behind Rahal and Wilson, the other four qualifiers for the final pole shoot-out were Andretti Green's Tony Kanaan, Team Penske's Ryan Briscoe, Scotland's Dario Franchitti for Target Chip Ganassi, and Will Power, standing in at Penske for Helio Castroneves while the Brazilian defends himself against tax evasion charges.
Franchitti, making his return to the IRL after a year in NASCAR, said: "I think the track is the same as it was the last time I was here in '07. It will be a great race tomorrow. I think the guys did a great job putting up the track and it's all good – it's a typical street course, getting faster all the time and getting more rubber down."
Three British drivers fill spots 10-12, with Dreyer & Reinbold's Darren Manning leading the group. The Yorkshireman needs a good showing tomorrow if he is to turn his one-off opportunity at St Pete into a full-season drive, but he and his team felt they had under-performed.
He said: "Not really where we wanted to be. We didn't get out for a final run on the Firestone Alternate tyres like we wanted to do. We made a change in the middle of that 15 minutes, which is a risky move and it bit us a little bit.
"We are still trying to make the car more comfortable for me and for the way that I like it. I'm still getting used to it and working with the guys to make it better and better. I still think we have more to come in speed, setup and with myself.
"There are just a lot of little things, like with the brakes and handling, that can kill a driver's confidence, and I'm not 100 percent with the car yet. It's not mine yet. With saying all of that, getting one more lap on those tyres, we would have been close to the top six and that's really good seeing from where we started."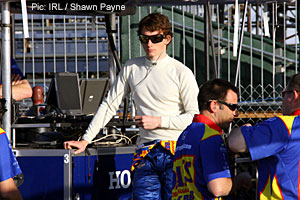 His team-mate Mike Conway will start from 12th after blasting through the first session but losing the chance to compete in the second by clipping a wall on his way back to the pits.
He said: "We were slowly improving the Dad's Root Beer car all morning and got it a bit better on the last run on the Firestone Alternate tyres. We could have gone faster again, but I made a mistake. On my in-lap I was trying to keep a good temperature in the tyres, but I hit the inside wall and it spun me on the outside into turn nine. I'm really disappointed."
Team co-owner Dennis Reinbold took responsibility for both drivers' woes: "With Darren's car we ran out of time, otherwise we think we had a good shot to get into the top six. With Mike, I should have brought him in, but I left him out a little too long and he just clipped an inside wall trying to hustle as he was doing what he was supposed to do out there and it caused a little problem.
"We are not starting as good as we would like, but it's okay. We were disappointed coming out of qualifying today with 10th and 12th, but we definitely feel like there is room for improvement and we are ready to do that."
In between the two is Dan Wheldon, making his debut in a points-scoring contest for Panther Racing after turning out for the team in the end-of-season exhibition race at Surfers Paradise last October.