Members of the Brawn GP squad have been proving that they are not just winners on tarmac, but can take on Britain's finest on the cycle track too.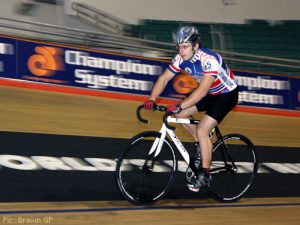 A group from the Brackley factory visited Manchester Velodrome on Wednesday to join the professional bike racing outfit Team Sky with the mission of proving that they could be as competitive on two wheels as on four.
The group, which included race engineers Andrew Shovlin and Peter Bonnington, tackled the challenge with a practice session on the track before taking advantage of coaching and advice from members of the team from British Cycling.
According to the team, they took part in a short pursuit race, were joined on the track by Olympic gold medallist and Team Sky member Geraint Thomas, and visited the Science and Technology department at the English Institute of Sport to learn how cycling shapes up to Formula One.
Team Sky will compete from 2010 with the aim of producing a British winner of cycling's most high-profile event, the Tour de France, within five years – very similar to Brawn GP's feat of winning the Formula One world drivers' championship with Jenson Button.
Speaking after the event, Peter Bonnington said: "Riding at Manchester Velodrome was a truly awesome experience and meeting some of the Olympians made it a day to remember.
"We were hugely impressed by the level of detail that goes into making a world beating team and how everyone was so focused and passionate about their sport.
"Thank you on behalf of everyone who attended on the day from Brawn GP to all of those at British Cycling who made this visit possible."