Is it that time already? The first winter testing session has kicked off in Barcelona with everyone from world rally champions to former GP2 frontrunners turning up to play on a cold but bright and sunny day.
It's too early for expected 2009 features including the redesigned rear wings and other aero modifications to have made their mark, and most teams are still working with their 2008 cars.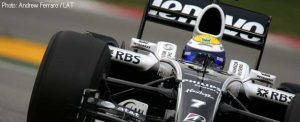 Nine of the ten teams were present – with Toyota the ones to stay away amid rumours of considerable financial shortfalls stacking up at its parent company.
It was the unlikely pairing of former Honda and Super Aguri driver Takuma Sato plus Red Bull tester Sebastien Buemi opening Toro Rosso's account at the Spanish circuit with a decisive one-two.
It could be that this leaves Sebastien Bourdais with his work cut out to hang on to his drive for 2009.
Alex Wurz was third for Honda while Pedro de la Rosa kicked things off for McLaren amid reports that he would be handing over to colleague Gary Paffett later in the week in order to go and lend a hand at Force India.
Ferrari's Luca Badoer was fifth on the unofficial timesheet while McLaren's Paffett, fresh from the conclusion of a successful DTM season alongside rising Mercedes star Paul di Resta, was sixth.
Robert Kubica for BMW Sauber in seventh was the first current race driver to put in an appearance – accompanied by former Jaguar and Red Bull pilot Christian Klien, tenth on the timesheet and still doing duty as the team's official tester.
In eighth was WRC star Sebastian Loeb, rewarded for his success by team sponsor Red Bull with a go in the RB4 – the sole representative of the Milton Keynes outfit present at this session. He has previously tested for Renault, Red Bull's engine supplier.
Nelson A Piquet was ninth for Renault, representing his team alongside the 25-year-old Dutchman Giedo vand der Garde – a strong Formula Renault performer in the past and due to make his debut with GP2 team iSport International in its Asian and possibly its European races. He came home 16th.
Nico Hulkenberg, rumoured to be in possession of a brand-new contract with Williams, was 11th for that team with Vitantonio Liuzzi and Adrian Sutil for Force India in 12th and 13th.
Ferrari's Marc Gene found himself placed 14th. Among the back-markers were two further Honda testers, both GP2 drivers coming to terms with the car and both reportedly being considered to take over Rubens Barrichello's drive.
They were Bruno Senna and Lucas di Grassi, and Jenson Button is set to make an appearance later in the week.
McLaren said of its test that Paffett and de la Rosa completed a total of 143 laps and 666km between them, with de la Rosa putting in the fastest lap time of 1:21.417 late in the afternoon.
It added that drivers undertook pre-2009 preparation work using cars fitted with slick tyres and modified to simulate 09 levels of downforce. De la Rosa focused on the MP4-23K, which is equipped with KERS.
Honda said it would be running two programmes with Wurz and Button focusing on the development of the 2009 car while the team also evaluated di Grassi and Senna.
As the test kicked off Wurz' role involved evaluating various aerodynamic components for next season and running the Bridgestone Potenza slick tyres.
Day one test times:
Takuma Sato, Toro Rosso: 1:20.763 (121 laps)
Sebastien Buemi, Toro Rosso: 1:21.071 (117 laps)
Alexander Wurz, Honda: 1:21.198 (77 laps)
Pedro de la Rosa, McLaren: 1:21.417 (65 laps)
Luca Badoer, Ferrari: 1:22.038 (93 laps)
Gary Paffett, McLaren: 1:22.235 (47 laps
Robert Kubica, BMW Sauber: 1:22.341 (56 laps)
Sebastien Loeb, Red Bull: 1:22.503 (82 laps)
Nelson A Piquet, Renault: 1:22.560 (80 laps)
Christian Klien, BMW Sauber: 1:22.883 (53 laps)
Nico Hulkenberg, Williams: 1:23.467 (116 laps)
Vitantonio Liuzzi, Force India: 1:23.794 (86 laps)
Adrian Sutil, Force India: 1:23.832 (88 laps)
Marc Gene, Ferrari: 1:24.117 (32 laps)
Bruno Senna, Honda: 1:24.343 (39 laps)
Giedo van der Garde, Renault: 1:24.908 (27 laps)
Lucas di Grassi, Honda: 1:25.512 (48 laps)